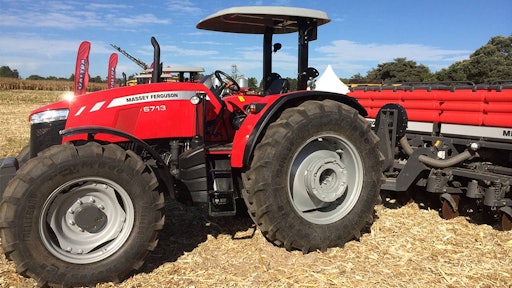 Trelleborg has been named as the official partner of AGCO's Future Farm project, which was officially launched with a ceremony in Lusaka in Zambia, on May 27.
AGCO's Future Farm aims to develop a sustainable food production system and increase farming output by utilizing Africa's agricultural resources more effectively. The new state-of-the-art facility is designed to accommodate both small-scale and large commercial farmers as well as AGCO dealers and distributors. Bringing together the practical knowledge, expertise and services of a broad range of partners from across the agricultural value chain, the new Future Farm will educate farming professionals across Africa on how leading-edge processes and mechanization can not only boost output, but increase the efficiency of their operations.
Paolo Pompei, President of Agricultural & Forestry Tires at Trelleborg Wheel Systems, comments, "We are delighted to further strengthen our strategic partnership with AGCO and honored to associate ourselves with a project that will help provide solutions to the challenges faced by every farmer across Africa – an increasingly important region to the future of the agricultural world.
"As part of our ongoing commitment to accelerating the performance of the agricultural industry in the region, we are continuing to invest and expand our sales and distribution network, not only in North Africa and South Africa, but across countries including Ethiopia, Kenya, Zambia, Mozambique and Angola."
At the launch event, Trelleborg conducted a field demonstration showcasing how farming professionals can enhance the productivity and efficiency of their operations thanks to its radial range of premium agricultural tires.
This saw two Massey Ferguson Global Series tractors compete over a 220-yard track simultaneously. One tractor featured Trelleborg's radial tires, while the other featured cross-ply technology tires. Chronometers measured the time taken for each tractor to complete the track, while two cylinders measured fuel consumption and thus allowed for the measurement of the benefits provided by Trelleborg tires, both in terms of cost savings and reduced working time.
Companies in this article