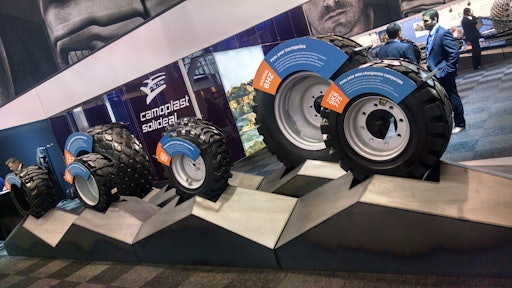 INTERMAT 2015 once again brought the international construction industry together in Paris, France. The show encompassed a total exhibition space of 375,000 square meters dedicated to highlighting various earthmoving, lifting, drilling and other construction-related equipment, as well as various componentry and services.
Couldn't make it to this year's show? View our media gallery to see a glimpse of the new technologies and events exhibited at the show.
A post-show release from INTERMAT organizers says there were a total of 183,000 visitors at this year's event. While this was an 8.5% decrease from the record-breaking 2012 show, organizers say it's still a satisfying number considering the current complexity of the global economic market. International attendance, however, increased with 35% of attendees coming from 168 countries; EMEA (Europe, Middle East and Africa) countries represented the strongest international presence at the show.
New this year was World of Concrete Europe which featured 200 exhibitors highlighting the latest technologies and services for the concrete industry. Outdoor demonstrations were a large part of the show, providing visitors an opportunity to see first-hand various techniques and equipment in action.
As a means of highlighting the latest technology the industry has to offer, the INTERMAT Innovation Awards were once again given out during the Pre-INTERMAT event held in January. During INTERMAT, this year's winners were displayed in a special outdoor exhibit that enabled attendees to see the products in person and learn for themselves what made them innovative or unique. Winners this year included Wacker Neuson Group's dual power mini excavator which can operate via an electro-hydraulic generator or integrated diesel engine, and the Merlo transversal stability system designed to prevent lateral overturning of a telehandler by providing operators with real-time feedback on the machine's lateral stability.
Read more about the Innovation Awards and this year's winners in the article Innovation takes the stage at INTERMAT 2015.
The economy: both domestic and abroad
Eric Lepine, President of CECE, the European Construction Equipment Association, said during a press conference at INTERMAT that while there is still uncertainty in the global economy, there are signs Europe and other regions are slowly heading in a more positive direction. He said the bright spot for the construction industry will be North America as it is an important export market for Europe and has seen more positive market development.
Most product groups are expected to be flat or down in 2015, he said, though crushing and screening equipment sales may see an increase this year. Southern Europe and Turkey are the regions in which positive market activity is expected, however it isn't anticipated that the increases in these regions will have much of an impact on the overall European economy. Meanwhile the rest of Europe should be flat and Russia will once again be down in 2015.
Read the article Constructing the Europe of tomorrow for more of CECE's insight into the current state of the European economy.
Lepine also noted during his presentation the potential benefit of the Transatlantic Trade & Investment Partnership (TTIP) with the U.S. If passed, it would secure free trade between the nations, eliminating tariffs 100%. In addition to CECE, both CEMA (European Agricultural Machinery Association) and the Association of Equipment Manufacturers (AEM) have expressed their support of the TTIP.
The Chinese construction equipment industry was also a topic of conversation during INTERMAT. At a Volvo Group press conference, President Martin Weissburg said China is still a valuable marketplace for the Volvo. While it is expected to be flat in 2015, Weissburg noted it will go up again.
Organizers of the biennial tradeshow BICES also held a press conference at INTERMAT, providing further insight into the status of the Chinese construction industry. According to Su Zimeng, Vice Chairman and Secretary General of the China Construction Machinery Association, who spoke during the press conference, export and import volume of machinery was up 8.13% in January and February 2015 compared to last year. He went on to say that the Chinese government's continued infrastructure and urbanization efforts going into effect in 2015 and 2016 will continue to aid the construction machinery industry in China. Investment in railway construction, for example, is anticipated to be over RMB 800 billion in 2015.
Stage V engines
Europe's impending Stage V emissions regulations for off-road engines was a topic of discussion for many engine manufacturers at INTERMAT. Slated to go into effect in 2019, the proposed regulation will now cover engines below 19 kW and above 560 kW.
The biggest change associated with Stage V is the limit now being placed on particle number (PN) emissions, whereas previous regulations focused solely on particle mass. With the proposed PN limit of 1×1012 kWh-1, the use of a particulate filter will be required to ensure engines are capable of meeting the regulation.
Deutz Corp. and Cummins Inc. were among the manufacturers at INTERMAT who discussed their readiness for Stage V with show attendees. At the show Deutz announced all DPF-equipped engines in its 2.9 to 7.8 liter range already meet the proposed regulation because the company already went through a massive overhaul of its engine designs in this range in anticipation of the Stage IV regulations. The company said these engines use the latest exhaust aftertreatment technology, which includes a sealed diesel particulate filter (DPF), enabling them to meet the legislation as it currently stands. Deutz signified these emissions-compliant engines at its booth with a special 'Stage V ready' logo.
Cummins also announced at the show its engines are ready to meet the new regulation as the wall flow DPF technology it currently employs is capable of capturing almost all particulate matter, and thus ensures emissions compliance. However, Richard Payne, Off-Highway Regulatory Affairs – Europe, said during the company's INTERMAT press conference that the company sees the new regulation as an opportunity to advance its technology further. As such, it introduced a concept for its EcoFit Single Stage aftertreatment system at the show which it said has the potential to be used for meeting the new Stage V regulations. The system is 60% smaller and 40% lighter than current combined selective catalytic reduction (SCR) and DPF systems, making it easier for OEMs to integrate engines using the technology into their equipment designs.
Be sure to keep an eye out for an extended look into the new Stage V regulation and how engine manufacturers are preparing for it in our upcoming July/August issue.
While some engine manufacturers feel prepared for the impending regulation, organizations such as CECE have voiced concern over the regulation, mainly in regards to its adoption date. In order for manufacturers to feasibly meet the proposed 2019 implementation date, the regulation needs to be finalized this year.
"We need the regulation to be approved by the end of 2015, otherwise our industry will not have the time to implement all the necessary changes in the engine and the machines to comply to these new very stringent emissions standards," said CECE President Lepine during a press conference at the show. He stressed the need for legislators to keep in mind what's best for the industry, as well as the environment, when finalizing the Stage V regulations.
Lepine also voiced the need for global alignment between emissions regulations. With the implementation of Stage V, Europe will have the strictest regulations. However, CECE says that an estimated 75% of the world is only at Stage IIIA and below. Having so many varied regulations across the globe poses many challenges for manufacturers since they have to make different products for different markets. CECE says aligning regulations with other regions, particularly the U.S., will make it easier for European companies to compete in a global market.
Product launches
Various OEMs and component manufacturers used INTERMAT as the platform to launch new products and services for the construction industry.
Track and tire manufacturer Camoplast Solideal, for example, used the show to introduce its three new skid steer tires to the European market:
SKS 775 – Designed for hard surface or rough applications, the tread pattern features more rubber in the center for increased durability while Hauler Steps angled at varying degrees provide self-cleaning properties to ensure traction.
SKS 732 – a general purpose tire featuring wrap-around Hauler Steps that go the full length of the tread for better cleaning and thus traction.
SKS 793S – a solid rubber tire that can be used both on- and off-road offering flat-free benefits and includes aperture holes to ensure ride comfort.
According to Camoplast Solideal, these new tires are the first examples of its next generation of tires. The company used what it learned from its first generation tires, as well as input from customers on issues such as durability and premature failure due to impact and traction to advance its tire technology. Over the next few years it will upgrade its existing tire products as well with new compounds and other features to ensure its tires meet customer requirements.
The new tires also feature the company's new naming system which it hopes will make selecting tires easier for customers. The initial three letters of the tire name, SKS for example in the above skid steer tires, indicate the machine application for which the tires are intended to be used. Numbers used in the tire names are used to denote performance, the type of surface it can be used on and the tread pattern employed on the tire.
John Deere Power Systems (JDPS) announced at INTERMAT its PowerSight technology is now available for the European market. The company says it will provide the same engine health monitoring capabilities as customers in North America have experienced since the technology was first introduced.
Even more news and product announcements can be found by searching "Intermat" at www.oemoffhighway.com.