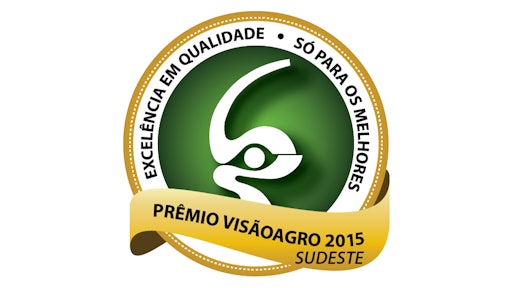 Trelleborg has added yet another award to its collection, taking home the prize for 'Best Agricultural Tire' at this year's "O Prêmio VisãoAgro Sudeste" in Brazil. Awarded by the Agriculture Secretary of São Paulo, Arnaldo Jardim, the accolade recognizes the performance of Trelleborg's innovative agricultural tires in the sugar cane industry in the south-eastern region of Brazil.
The VisãoAgro Sudeste Awards recognize and honor mills, distilleries and product manufacturers who have excelled in the areas of processing and production in the sugar cane industry. Companies are selected following research conducted by AR Enterprises, GEGIS and the Journal of Vision Agribusiness.
Piero Mancinelli, R&D Director, Agricultural and Forestry Tires at Trelleborg Wheel Systems comments, "To receive the award for 'Best Agricultural Tire' at the VisãoAgro Sudeste Awards for the global sugar cane industry is an exceptional achievement and is testament to Trelleborg's commitment to continually developing innovative solutions that improve the efficiency, productivity and sustainability of future farming."
Trelleborg's 710/70R38 TM800 SugarCane is the leading agricultural tire designed specifically for sugar cane applications. It can cope effectively with sugar cane stubble, while the profile of the tire lug's base is significantly smoother and more rounded in comparison to a conventional tractor tire.
The structure of the TM800 SugarCane has been designed to handle high torque and load transmitted to the tire during demanding sugar cane farming operations. The tire's bead width is 12% greater than that of a standard agricultural tire, enabling it to withstand the stress of severe farming conditions. In addition, the advanced profile of the tread lugs is significantly stronger, boosting the tire's tread resistance.
The 2015 VisãoAgro Sudeste Awards, which are attended by over 300 representatives of some of the largest companies and plants in the sugarcane industry, were held at the Beira Rio Palace Hotel in the city of Piracicaba, São Paulo on June 16.