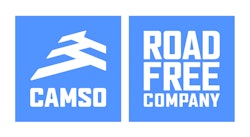 Magog-based company Camoplast Solideal has become Camso. For the company, Camso represents the best of Camoplast and Solideal.
"The launch of Camso highlights the success our company has achieved in just a few years. We have become the world's second-largest specialized player in the manufacturing of tires, tracks and track systems for off-the-road vehicles," explains Camso Chairman of the Board and CEO Pierre Marcouiller. Camso's sales in this sector went from US $95 million to over $1 billion in seven years. The company serves four markets: material handling, construction, agriculture and powersports.
Today, Camso puts 100% of its effort on 11% of the global tire and track market: the off-the-road market. This focus creates an in-depth knowledge of the OTR market enabling the company to identify its customers' very specific needs and hence, develop enhanced tires, tracks and track systems for those needs.
Camso, the Road Free company
On one hand, manufacturers of on-road tires aim to create the best tire for one type of use: to drive on a road. On the other hand, the nature of off-the-road mobility implies multiple vehicle applications across numerous surface types. This creates many niche markets. "One might think that producing on-road and off-road tires are one and the same, but this simply isn't the case. This has driven Camso to constantly reinvent itself. Our people take the time to understand the multitude of constraints and challenges that machine operators experience," says Marcouiller.
The company has developed a unique culture. For the Camso team, "Road Free" means achieving its commitments, being industrious, and acting authentically in its relations with its customers and suppliers. This is what the Camso brand aims to communicate to its partners.
Through its flexible manufacturing processes, its aftermarket distribution model and partnerships with original equipment manufacturers (OEM), Camso is not only a one-stop shop, but also a world leader in off-the-road tires, tracks and track systems.