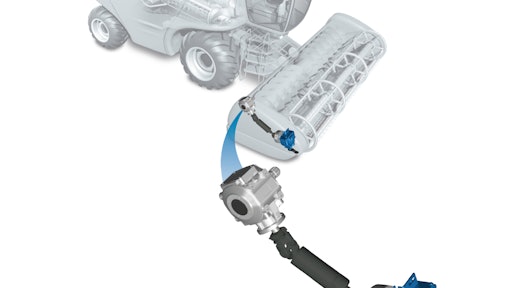 Comer Industries will be exhibiting at the trade fair of agricultural mechanization Agritechnica 2015 in Hanover, Germany, with its innovative solutions for agricultural engineering, designed and developed to maximize efficiency (Hall 17, Booth B52).
The company has been selected to be part of the Efficiency Pathway, one of the pathways that will lead the visitor through the international platform "Systems and Components" of the German event, dedicated to systems, modules, components and accessories for agriculture and related industries.
The pursuit of excellence within the company includes efficient manufacturing processes, such as those implemented in the new Gearboxes plant in Reggiolo, Reggio Emilia, Italy: 20,000 square meters, green technologies that help reduce harmful emissions into the atmosphere equal to 253 tons/year, a cutting-edge paint facility and advanced gearbox assembly.
Comer Industries is previewing at Agritechnica 2015 the new maintenance-free rotary rake K-795T gearbox, which does not require periodic maintenance, thanks to several new design features: a bevel gear assembled in a closed room, using high performance grease, without need for relubrication, a system of support arms with sealed-for-life bearings and a new profile cam ring with anti-wear treatment.
A large transmission used on the latest range of CNH quad-tracked tractors, Steiger Rowtrac, will be exhibited by courtesy of the customer.
The track gearbox, consisting of a combination of parallel and planetary gears, features a compact size, high torque transmission and great structural strength, due to its special design. The solution provides power directly from the differential to the main sprocket of the track, with the benefit, thanks to the assembly of the sprocket in a higher position compared to traditional tracked tractors, to have a narrower and longer track, resulting in easier tractor handling and less ground compression.
The system for trailed feed mixers on display at Agritechnica is formed by the new modular gearbox PGA-4203 VM for auger activation, by compact, high power density modular gearbox PGA-2100 VM (patent pending) and by the multi-speed A-613 parallel axis unit. The new PGA-4203 VM, highly resistant to heavy loads, is the largest gear available on the market for this application and was specifically developed for machines with single auger with maximum capacity of 26 m3. A-613 transmission is quiet and highly efficient, thanks to the use of helical gears and is fitted with an electrical actuator, ready for integration with ISOBUS protocol.
The whole solution is part of the Efficiency Pathway for its design and manufacturing features and will be presented at the Technical Forum of Systems & Components on November 10 at 2:00 pm.
For self-propelled feed mixers, exhibits include the system formed by S-238 axle, which provides the best braking and efficiency performance within its category, and the PGA-2503 VM auger drive, a compact solution that can be combined with different types of hydraulic motors.
PGRF-11003 large track drives will be presented. This is a series of compact three-stage planetary drives, which have already collected great success in heavy-duty applications for tracked machines and will be exhibited on an agricultural application (plow). The series for wheeled applications is also available.
Also on display will be the professional range of VP driveshafts, which offers advanced safety performance, easy maintenance and extended lubrication intervals.
For round balers Comer Industries will show a drive system formed by gearbox T-301 and constant velocity professional driveshaft CVJ VP9.
A complete side transmission for grain header' cutter bar, which consists of T-312 unit, made in aluminum to obtain weight reduction, the OS-780 wobble box for blade operation and an E-torque driveshaft, will be on display. The driveshaft is equipped with a rubber element device, which dampens vibration and torque peaks.
For the cutter bar, the company offers the system made of the FR-566 bar, including kinematics with advanced rotor and the input unit T-290 HD at high transmission efficiency, thanks to a special finishing treatment made on the teeth, with transmissible power up to 80 hp at 1,000 rpm.
Furthermore, exhibits will include the D-732 two-speed parallel-axis gearbox, with assisted gear-change and a two-position electrical actuator that ensures easier and safer function of the strawbedding machines during operations.
Lastly, various cornheader gearboxes will be presented, including L-170, N-669 and 684 models and the wheel gearbox A-654, these two latters exhibited by courtesy of customer CNH.
Comer Industries' participation at Agritechnica is handled with the important contribution of the German branch Comer GmbH, located in Schermbeck. In 2015, the branch is celebrating its 30th anniversary and it has been enhanced with new sales engineers to provide greater support to customers in the geographical area of Central Europe.