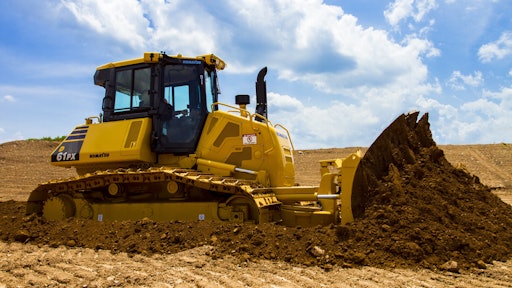 Komatsu America Corp., a leading global heavy equipment manufacturer, introduces the new D61-24 crawler dozer, a standout choice for any grading or earthmoving application.
The D61-24 crawler dozer features a 6.8 liter, 168 hp SAA4D107E-3 EPA Tier 4 Final emissions certified engine with class-leading power and fuel efficiency. The Komatsu Variable Geometry Turbocharger (KVGT) creates excellent engine response and helps maintain a high level of passive regeneration to ensure fuel isn't wasted on cleaning the exhaust filter. More than 99% of Komatsu Diesel Particulate Filter regeneration is performed with no action required by the operator.
"The D61-24 dozer combines the visibility and productivity strengths of its predecessor with blade durability and equipment-speed upgrades in the new model," says Jonathan Tolomeo, Komatsu Product Manager. "Also, we think operators will really like the H-Mode enhancement for high-duty cycle applications requiring extra engine speed."
Other noteworthy features on the D61-24 crawler dozer include:
A choice between quick-shift, three-speed mode and a variable, 20-speed customizable transmission mode to suit personal preferences.
Proprietary engine and hydrostatic transmission technology that improves machine efficiency and cuts fuel consumption.
New auto-idle shutdown and economy modes that help reduce idle time and save fuel.
Pioneering KOMTRAX telematics system and monitor that provides key machine metrics, including KDPF status, DEF consumption, fuel level, operating hours, location, cautions and maintenance alerts. Operator ID also makes it possible to view KOMTRAX data by job, application or operator.
KOMTRAX is included with the D61-24 at no charge.
Large, multi-lingual, 7-inch, high-resolution LCD monitor with Ecology Guidance that helps operators monitor machine performance for maximum fuel efficiency and follow real-time integrated diagnostics for troubleshooting without a laptop.
Standard rear-view monitoring system that promotes increased operator awareness of potential worksite hazards.
The D61-24 and every other Komatsu Tier 4 Final construction-sized machine, whether rented, leased or purchased, is covered by the Komatsu CARE program for the first three years or 2,000 hours, whichever comes first. Komatsu CARE includes scheduled factory maintenance, a 50-point inspection at each service and two complimentary Komatsu Diesel Particulate Filter exchanges and DEF tank flushes in the first five years.