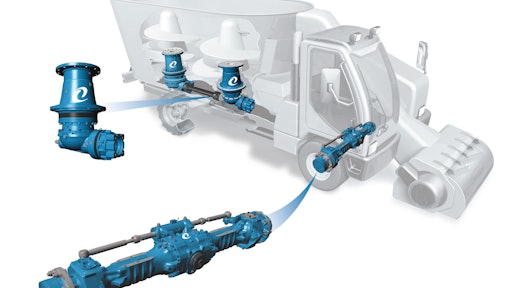 For the sector of forage processing and spreading machines, Comer Industries will be showing at Agritechnica (Hall 17, Booth B52) a solution for self-propelled feed mixers with vertical augers, consisting of S-238 differential axle and PGA-2503 VM auger drive with hydraulic control.
The 238 12-tonnes axle series is suitable for self-propelled feed mixers up to 24 m3. With its steering and rigid versions, the 238 axle fits both 2-Wheel-Steer and 4-Wheel-Steer vehicles and, thanks to its modularity, it easily meets market demand in terms of brake options, reduction ratios and differential types.
For 2-Wheel-Drive vehicles, the hydraulic motor can be directly mounted on axle input. For 4-Wheel-Drive vehicles, the axle can be equipped with the double speed gearbox S-528 Series to manage different speeds for transfer as well as for work mode. The gearbox can be provided with the 4-Wheel-Drive disconnection option, which allows the user to disengage the transmission between front and rear axles in transfer mode.
This solution caters to the growing requirements of manufacturers in terms of boosted efficiency and provides the following benefits:
better performance, even with the same total weight, thanks to increased dynamic load;
greater compactness, for easier installation of the axle inside the machine.
This is a flexible solution, in line with customers' requests for a design aimed at improving a vehicle's configuration and increasing productivity.
The transmission system is completed by modular gearboxes for transmitting the vertical drive to the augers: the PGA -2503 VM, with compact hydraulic connection, can be combined with different types of hydraulic motors.