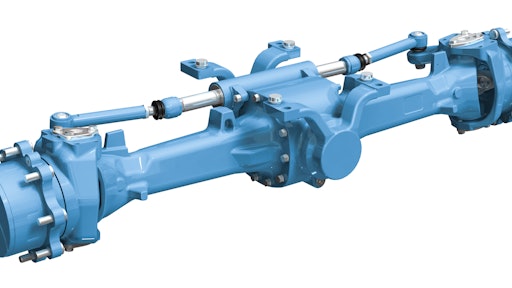 At Agritechnica 2015, Dana Holding Corporation presented the company's full series of Spicer modular steer axles for agricultural tractors. This unique global platform allows engineers to reduce the time from design to production while still supporting a wide range of customization options.
Dana offers a broad selection of Spicer modular agricultural axles for tractors with engines from 33 to 301 kW (45 to 410 hp) and continuous output torques from 2,000 to 40,000 Nm.
"Our customers require products that increase productivity and efficiency while supporting their regional and global strategies," says Aziz Aghili, President of Dana Off-Highway Driveline Technologies. "This line of Spicer steer axles provides a flexible platform for manufacturers to deliver the customization and features that buyers demand."
Currently in production across Dana's global network of manufacturing facilities, these modular axles replace Dana's traditional line of agricultural steer axles. The components used in this line of modular agricultural axles provide customers' engineers with a flexible product design that can be manufactured at numerous Dana facilities around the globe, including those in emerging markets.
The advanced modular design features a common center section and wheel ends while accommodating multiple traction devices on a single carrier. Spicer agricultural axles are available with a steering sensor, application seals, and a wide selection of brake and differential options.
Dana displayed these axles along with a full selection of drivetrain solutions for agriculture applications in hall 17, stand C22.