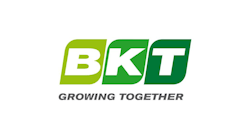 The spectacular presence of a Monster Truck caught the attention of visitors and operators at the BKT stand (Hannovermesse - Hall 04, STAND D22) at Agritechnica, the world's largest trade show for agricultural machinery. From November 10 to 14, 2015 and during the two exclusive preview days of November 8 to 9, in addition to the "monster," the real showpieces of the BKT tire lineup were on display.  
Among the BKT highlights, there was the radial tire AGRIMAX FORCE for four-wheel drive high-powered tractors (over 250 hp) in size IF 650/85 R 42. Agrimax Force has been engineered through the development of a special concept of the IF technology, offering customers an always increased load capacity at lower pressure values compared to a standard tire. Agrimax Force is the perfect solution whenever a larger footprint on the terrain shall contribute to not compacting the soil without compromising performance.
BKT's brand new RIDEMAX IT 697 M+S was displayed at the BKT stand in size 540/65 R 30. This winter tire for tractors ensures perfect grip for all operations on icy and snowy land without the need of snow chains being mounted – the ideal tire meeting the needs of modern farming contractors during winter operations. Thanks to the tread grooves and the special mix, a tractor can be driven in full stability, comfort and with maximum control at low temperatures even on roads that are both difficult and dangerous due to snow and ice.
The radial tire RIDEMAX FL 693 M for agricultural trailers was present at the BKT stand in its new size 600/55 R 26.5. The tire has been developed for mainly road usage and offers a high load capacity. Its particular self-cleaning tread reduces rolling resistance decreasing fuel consumption.
Displayed in size 710/50 R 26.5, visitors were also able to gaze at the FL 630 ULTRA tire for spreaders, trailers and tank trucks at Agritechnica. Thanks to its large number of lugs as well as the reinforced bead, this very versatile and resistant tire is ideal for a mixed usage both on the road and in the fields.
Another showpiece was the FL 630 SUPER tire in size 750/60 R 26.5. The special tread design and its construction features make the tire suitable for multi-purpose use on any terrain, whilst features like uniform drive and resistance are much appreciated on the road as well.
The tried and tested AGRIMAX SPARGO tire line for sprayers and row crop applications was present in size VF 380/85 R 38. The technology of these tires allows for supporting heavier loads at the same pressure compared to a standard tire of the same size. Besides, design and structure contribute to minimizing soil compaction preserving the crops' productivity.