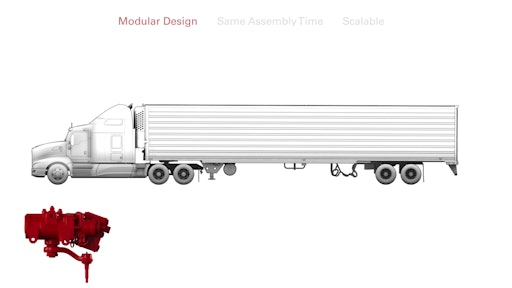 Nexteer Automotive showcased advanced steering and driveline technologies at the 2016 North American International Auto Show (NAIAS) – featuring MAGNASTEER with Torque Overlay (MTO), as well as its technology roadmap toward autonomous driving.
Nexteer's MTO makes it possible for drivers of heavy-duty trucks to experience advanced driver assist functionality and features – such as park assist, pull compensation, active return to center, lane keeping and others – typically found only in Electric Power Steering Systems (EPS) for passenger cars and light-duty trucks. 
Nexteer offers an MTO cartridge valve that makes MTO scalable for use not only in 3/4 T trucks, but also in Class 4 and above trucks, commercial vehicles, semis and buses. The MTO cartridge valve assembly retains its modular design to interface with OEMs' current gear configurations. 
"MTO in a cartridge valve configuration gives drivers of heavy-duty vehicles, semis and buses the benefits that have previously only been available to a limited segment of full-size trucks," says Mike Richardson, Executive Board Director, Senior Vice President and Strategy Officer.  "Drivers towing trailers and hauling heavy loads experience a tangible difference in the steering feel, comfort and driver-assist features." 
Nexteer's Strategic Vision, Defining Steering in an Autonomous World
MTO is just one part of Nexteer's overall strategic plan and its technology roadmap. 
"The depth and breadth of our advanced steering and driveline technologies cover the global market from the smallest cars through heavy-duty trucks and other heavier-load vehicles. This represents one of our key competitive advantages," says Richardson.
"In addition, a number of market trends are driving content and expansion opportunities such as increased demand for fuel efficiency, vehicle connectivity, driver assist and autonomous technologies. Even the essence of how the market defines 'mobility' is quickly evolving and fueling Nexteer's research and development activities."    
Frank Lubischer, Senior Vice President and Chief Technology Officer, explains how Nexteer's technologies and expertise are defining the company's technology roadmap to autonomous steering. "Nexteer is leveraging current driver assistance products and technology to enhance the autonomous driver experience," he says. "Our groundbreaking, leading-edge technologies – combined with our ability to industrialize on a global scale according to each market's needs – enables us to meet the future requirements of steering systems for the autonomous vehicle market." 
While other industry players may be taking different technology paths toward autonomous steering, Nexteer has chosen to focus on technologies related to its core products. "In addition to our central steering actuation technologies, we are also developing 'adjacent technologies' such as human machine interfaces and driver monitoring that enhance the driver experience," adds Lubischer.
The company cites additional factors fueling Nexteer's position as a leader in intuitive motion control, including in-house technologies used as building blocks for autonomous technology development, plus continued evolution in the company's culture, work environments and R&D structure.