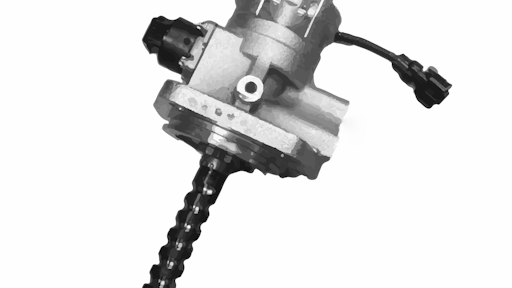 Advancements in steering technology over the past two decades have brought about more automated steering capabilities for increased productivity, driver comfort and safety, as well as helped create a clearer path toward fully autonomous vehicles.
Tom Rudolph, Product Marketing Director, Work Function at Danfoss Power Solutions, says that in the early 2000s the agricultural industry began to request automatic/GPS-based steering systems to increase farm productivity. In 2010, the company introduced its OSPE electrohydraulic steering unit to help meet this request.
OSPE's electrohydraulic interface enables off-highway equipment to utilize GPS-based automatic steering systems while also allowing OEMs to replace steering wheels with joystick or electric mini-wheel steering for improved ergonomics. A safe state built into the steering unit allows operators to still drive the vehicle should there be an electrical failure.
In November 2015, Danfoss introduced the PVED-CLS steering and safety controller for the OSPE steering unit which integrates steering and safety control into a single electrohydraulic actuator that is embedded directly on the OSPE steering valve. The controller is designed to meet all current safety standards (ISO 13849, ISO 25119, IEC 61508) as certified by third party organizations; TÜV SÜD, the German safety validation organization, has certified the controller and software meets the standards for functional safety of electronic equipment and functional safety of control systems. Rudolph says having the certified safety controller built into the steering unit eliminates the need for an OEM to install an external safety controller, saving space and development work in their equipment designs.
The controller also allows quick steering operation for improved operator comfort by allowing the number of steering wheel turns to be reduced.
Rudolph notes that the OSPE steering unit has a standardized interface that will work with a wide range of GPS steering systems, and is capable of being implemented into most types or sizes of vehicles. The steering unit and GPS systems communicate via CANbus, so there is no need to use a separate communication controller device. He says Danfoss works closely with GPS navigation and other steering input device providers to optimize the interface and performance of the steering technology, and to ensure the steering unit's performance is unique.
Electric power steering comes to the heavy-duty market
While steering systems have typically been hydraulic based, the introduction of electric power steering (EPS) 15-20 years ago brought about new opportunities to further improve driver comfort and safety, and the use of advanced driver assist systems (ADAS) such as lane keeping, pull compensation and park assist.
Nexteer Automotive recently introduced its MAGNASTEER with Torque Overlay (MTO) as a means of bringing EPS capabilities to hydraulic steering systems in applications that are too large for standard EPS technology to be applied. MAGNASTEER, first introduced in the mid-90s, is a variable effort system in which an electro-mechanical actuator is placed around a standard steering valve. "As a truck goes faster or slower, we energize that magnet more or less to stiffen up the [steering] valve," explains Brian Darling, Product Line Executive Director, Global Hydraulic Product Line at Nexteer Automotive. "We actually teach the software to learn how the truck is going one way or another, and put that slight correction right into the steering system. You're less fatigued now as a driver with the driving experience."
MTO adds pressure sensing and software to the MAGNASTEER product, enabling not only adjustment of steering valve stiffness but also manipulation of the valve body to turn left or right without any steering input from the driver.
Darling says that often times when manufacturers try to add torque overlay to a hydraulic steering system, they had a mechanical connection that may cause extra friction. MTO, on the other hand, does not require any additional connections. "The driver gets pure hydraulic steering feel until the system senses it can add to driver comfort, performance, safety, whatever we want that system to do," he explains. "It can help the driver or overtake the steering a little bit to help the driver and the vehicle itself drive the way it's intended to drive."
Unlike other systems which are often integrated onto the steering column—and possibly further restricting drivers' leg room—the MTO cartridge can be integrated right into the steering gear housing under the hood of the vehicle. Its controller and controller harness can then be located anywhere underhood the OEM would like. "If you think about how cost-sensitive these truck makers are and challenges for servicing, this is what we see as the least disruptive [technology] to the vehicle environment," says Darling.
MTO is a scalable technology that can be used in on-highway vehicles from Class 4 and up, including heavy-duty buses and commercial vehicles, as well as off-highway equipment.
Moving toward autonomous driving
With the introduction of the MTO product, lateral control is now available for vehicle steering which is a key first step on the road to autonomous vehicles, says Ali Maleki, Executive Director at Nexteer Automotive. "Historically, the industry has had longitudinal control in terms of electronic throttle control and electronic braking," he explains. "We've had no issues longitudinally controlling a vehicle with software. What we haven't had is access to lateral control - software control for steering the vehicle. Now this technology [MTO] enables that."
Maleki says steering is the golden nugget of autonomous driving. Having an electronic steering technology like MTO working together with a vehicle's cameras, radar, sensing systems and artificial intelligence enables the possibility for various levels of automation and ADAS features.
"We have control of the vehicle, now we need to know where to go – sensing, path planning and additional functions along those lines," says Maleki.
Though autonomous vehicles currently exist in certain applications—particularly in the off-highway arena such as in mining and agriculture—there are still steps to be taken in order to make autonomous vehicles more commonplace. Among those next steps will be the need for developing regulations, especially if these vehicles begin operating on public roadways.
Maleki says the increasing use of vehicle communications—both vehicle-to-vehicle and vehicle-to-infrastructure—will bring the need for more mature cyber security to ensure the safety of vehicle systems. Additionally, sensing technologies will need to become more affordable. As more cameras and other electronics are added to vehicles, more processing power is necessary to make sense of the information they collect. The computation engines needed to handle these higher processing requirements are available, but are still very expensive.
"These are the next steps," he concludes. "As far as the hardware goes, there is no need for any new invention, there is no unknown component that we need; we just need development along the lines of the hardware we have, more software and cost reduction."
Companies in this article