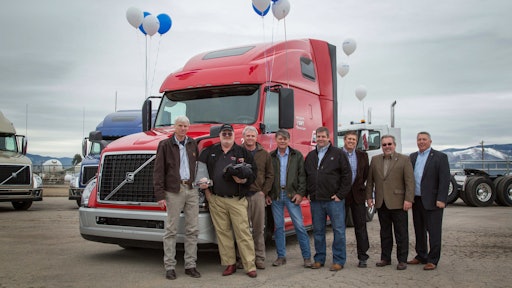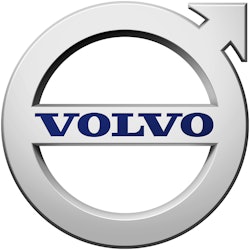 Volvo Trucks North America recently delivered the 100,000th truck equipped with its groundbreaking I-Shift automated manual transmission (AMT). The landmark truck, a Volvo VNL 670 model, was presented to Watkins & Shepard Trucking during a brief reception at Transport Equipment, a Volvo Trucks dealer in Missoula, MT.
Originally introduced in Europe in 2001, the Volvo I-Shift has had a significant impact on the global truck market. To date, Volvo has sold more than 575,000 I-Shifts globally. In 2007, Volvo introduced the I-Shift in North America, becoming the first truck OEM to bring an integrated AMT to the market. Volvo made the I-Shift standard on all Volvo-powered models in 2013. In 2015, I-Shift penetration in North America reached a record 83%.
"When we first introduced the I-Shift, many said that it would not be successful in this market," says Göran Nyberg, President, Volvo Trucks North America. "Yet thanks to the significant efficiency, performance and productivity benefits the I-Shift delivers to our customers, we're celebrating the delivery of the 100,000th I-Shift-equipped truck."
Driver Rick Candler was selected by Watkins & Shepard CEO Ray Kuntz and President Walt Ainsworth to receive the VNL 670 model, in part due to his nearly 28 years of service with the company. Several company leaders were on hand as the keys were presented to Candler, including Ainsworth and Dwayne Hill, maintenance manager. The truck was customized with Candler's name on the driver's door, a hand-painted decal recognizing its significance and a one-of-a-kind custom silver shifter.
"We are honored to accept delivery of the 100,000th I-Shift-equipped truck," Ainsworth says. "In addition to the efficiency and productivity gains we've seen, we're also finding that the I-Shift makes it easier to hire, train and retain drivers."
Watkins & Shepard has been a pioneer in logistics planning, technology implementation and asset utilization since 1976, specializing in LTL freight management, distribution, consolidation and warehousing.
The 12-speed I-Shift is a key component of Volvo's integrated powertrain. Equipped with sensors to identify factors such as load, road grade and more, the I-Shift helps ensure the truck is in the right gear for the conditions.
The I-Shift is also the enabling component of Volvo's XE – eXceptional Efficiency – powertrain packages, which help improve fuel efficiency by lowering engine cruise rpm. This concept, called "downspeeding," allows XE-package-equipped trucks to reduce engine rpm at cruising speeds by 200 rpm or more, providing drivers a fuel efficiency improvement of up to 3%.
With no traditional clutch pedal to operate, the Volvo I-Shift helps improve driver attraction and retention by reducing fatigue during the work day. The I-Shift also contributes to safety, as drivers are able to maintain focus on the road ahead.