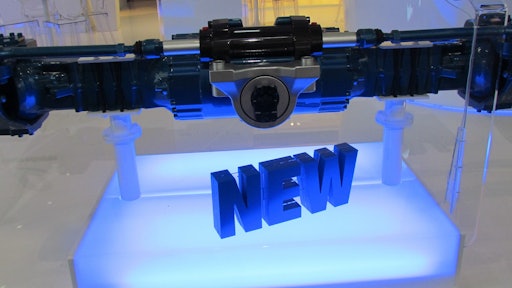 Comer Industries' innovative and efficient transmissions exhibited at bauma 2016 in Munich aroused great interest among customers and prospects. Specific Comer Industries solutions for construction machinery were also shown at customer' booths, like Liebherr's Wheel Loader 906 and Telehandler 436-7, Atlas Weyhausen's Wheel Loader AR30, as well as Wacker Neuson's Wheel Excavator EW65.
bauma, the world's leading trade fair for construction machinery, building materials industry and mining equipment, ended April 17. During its seven days, 3,423 exhibitors from 58 countries presented their products to around 580,000 visitors from 200 countries, of which many were keen to invest. After Germany, the top 10 countries of origins among visitors were Austria, Italy, Switzerland, the Netherlands, Great Britain, France, Sweden, Russia, Poland and the Czech Republic. The Messe Muenchen Trade Fair Management draws a positive closing balance sheet for bauma 2016. Comer Industries took part in bauma with its international team on its booth in Hall A4, where the major components manufacturer presented its newest transmission solutions.
"The fair was a great success for Comer Industries. Exhibited products in combination with video animations of the transmission solutions on the machines aroused customers' interest. In addition, the presentation of the new axle 328-Series for 12 t dynamic load and the introduction of the new PGR planetary travel drive series were highly honored. The OEMs were in a very good mood and this will hopefully result in many new projects in the second half of the year," says Edward Meis, Branch Manager Central Europe Industrial Products.
Comer Industries' solutions are gathering more and more success on the market
The company works in close partnership with top OEMs like CAT Forestry and will produce for them in the near future. It was a special honor to host Doug Oberhelman, Caterpillar Chairman and CEO, who visited Comer Industries' booth on the first day of the show.
bauma offered Comer Industries the opportunity to meet main industry operators, among which were executives of major OEMs worldwide. Specific Comer Industries solutions for construction machinery were also on show at customer' booths, like Liebherr's Wheel Loader 906 and Telehandler 436-7, Atlas Weyhausen's Wheel Loader AR30 and Wacker Neuson's Wheel Excavator EW65.
Comer Industries presented the new axle 328-Series, one of the latest developments of the Comer Industries' Powertrain Technology that will allow the extension of the off-road axles range, up today based on the 128 and 228/238 families. The S-328 steering axle shown at bauma is suitable for application on 11K Telehandlers. The outstanding load and torque capacity (12 tons dynamic load and 53,000 Nm peak torque) makes this family of rigid and steering axles suitable for equipping all main construction and earthmoving machines. The new automated axle assembly line at the Planetary Drives & Axles plant in Cavriago (Reggio Emilia), Italy was also presented at the booth through a specific video highlighting the company's commitment to an Industry 4.0 system based on cyber-physical integration. Comer Industries' new facility in Bangalore (India) is also dedicated to axle manufacturing by the middle of this year.
The transmission solution for soil compactors aroused also much interest and it was presented during a special event to customers and technical press. Comer Industries is a sole integrated driveline provider and its complete power transmission systems equip Weycor's new soil compactor AW1070. The complete driveline composed of axle F-128 and planetary drive PG-161, features compact design and highest ratio available.
The planetary drum drive PGR-3603 T for road construction equipment, highly resistant to heavy loads was on show for the first time.
The PGR product line consists of nine different sizes, ranging from 10,000-110,000 Nm of peak output torque. It is available with two or three reduction stages and it is suitable for the most common cartridge or SAE hydraulic motors, as well as electric motors.
Also the new rigid axle F-046 HYDRO for mini front-end loaders (patent pending), featuring reduced overall dimensions and improved vehicle performances, got great demand during the exhibition.
Comer Industries' participation at bauma 2016 was supported by the German subsidiary Comer GmbH, located in Schermbeck (North Rhine-Westphalia).
Positive signs and level of demand emerged at bauma make Comer Industries expect a market growth in Central Europe too.
The next bauma takes place April 8-14, 2019 in Munich.
The next show for construction machinery, attended by Comer Industries as an exhibitor, will be the CONEXPO-CON/AGG 2017 show, in Las Vegas, NV, USA, March 7-11, 2017.
Companies in this article