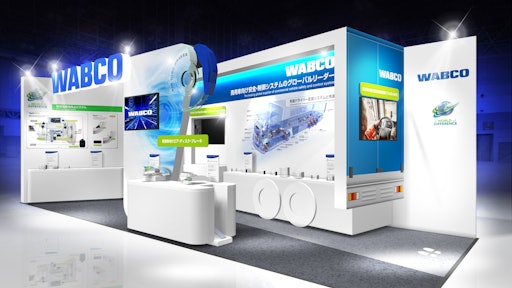 WABCO, a leading global supplier of technologies that improve the safety, efficiency and connectivity of commercial vehicles, will showcase its most advanced technologies at the Automotive Engineering Exposition 2016 Yokohama.
Drawing from its portfolio of "industry firsts" and major innovations, WABCO will feature numerous leading safety and efficiency technologies at the industry's largest tradeshow in Japan, to be held from May 25-27, 2016, in Yokohama. Differentiating WABCO technologies on display will include:
Industry-leading MAXX air disc brakes (ADB) – the industry's lightest and highest performing single-piston ADB for commercial vehicles. Superbly engineered and compactly designed, WABCO's MAXX air disc brake technology fits any wheel size from 17.5-22.5 in. across light-, medium- and heavy-duty applications for trucks, buses and trailers.
Industry-leading OnGuardACTIVE – advanced emergency braking system (AEBS) for trucks and buses that detects moving, stopping and stationary vehicles ahead. It utilizes a powerful 77 GHz radar sensor that maintains the system's high performance in all seasons. OnGuardACTIVE is capable of analyzing the traffic ahead, effectively recognizing impending critical driving situations early. Should the driver fail to take action, the system autonomously applies the brakes and can bring the vehicle to a complete stop, helping to prevent or mitigate rear-end collisions. OnGuardACTIVE is the industry's first AEBS that complies with stringent European regulations and homologated on various commercial vehicle platforms by several leading manufacturers in that region.
Advanced OnLane – camera-based lane departure warning system which continuously monitors the vehicle's position within lane markings. WABCO's OnLane is an advanced driver assistance system that alerts the driver of unintentional lane changes via acoustic, visual, and haptic warnings. As a result, the system improves driver attentiveness as well as overall vehicle and road safety. WABCO's OnLane is fully compliant with European regulations and has been homologated on various commercial vehicle platforms by several leading manufacturers in that region.
Next generation TailGUARD – advanced driver assistance system that combines the functions of rear blind-spot monitoring and automatic braking. A proven safety technology for trailers since 2010, TailGUARD is available for trucks and buses. It uses up to six ultrasonic sensors to identify even small stationary or moving objects hidden in the vehicle's blind spot. WABCO's TailGUARD alerts the driver via audio and visual signals before autonomously applying the brakes to help prevent collisions.
Intelligent ESCsmart – electronic stability control system that keeps vehicles stable during critical driving maneuvers. This intelligent system automatically intervenes if a vehicle becomes unstable, reducing the risk of rollover, skidding and jackknifing. Designed for light-, medium- and heavy-duty trucks as well as bus, coach and off-highway vehicles, ESCsmart adapts immediately to changing vehicle and load characteristics for outstanding vehicle control.
Advanced Electronic Braking System (EBS3) – electronic control system that improves braking comfort and reduces braking distance by several meters, a decisive distance in some situations. Integrated with the Anti-Lock Braking Systems (ABS) function, EBS3 improves vehicle safety by ensuring driving stability and the ability to steer throughout the braking procedure. It integrates with numerous other systems for enhanced safety and efficiency, including Automatic Traction Control (ATC) Electronic Stability Control (ESC) and Adaptive Cruise Control (ACC).
Industry award-winning OptiDrive – modular automated manual transmission (

AMT

) technology that increases fuel economy up to 5% through optimized gear shifting. A breakthrough in AMT technology, OptiDrive further improves efficiency by enabling operators to reduce maintenance cost, clutch wear and downtime. OptiDrive continues to be rapidly adopted globally by major manufacturers of transmissions, trucks and buses as it is easily adapted to a wide range of existing manual gearboxes.
New OptiTire – WABCO's next generation tire pressure monitoring system for trucks and trailers will be on display in Japan for the first time. WABCO's OptiTire is the industry's first system that allows vehicle builders to choose either external or internal wheel sensors. OptiTire tracks tire temperature and enhances early leakage detection, which helps to improve vehicle maintenance and up-time. WABCO's OptiTire increases fuel economy by up to 2% and extends a tire's lifetime as the system continuously supports keeping tire pressure at recommended levels. The company's latest tire pressure monitoring system is easy to retrofit on a wide range of commercial vehicles.
"We are pleased to demonstrate WABCO's industry-leading technologies at the Automotive Engineering Exposition 2016 Yokohama, including OptiTire, which is shown for the first time in Japan. WABCO's technology leadership can further help commercial vehicle manufacturers and fleet operators improve the safety and efficiency of trucks, buses and trailers across the Asia Pacific region and markets worldwide," says Sujie Yu, WABCO Vice President, Asia Pacific. "Our customers value WABCO's world-class product development, engineering and system integration capabilities, and appreciate our ability to deliver superior performance through optimized solutions."
"Innovation and value-based technology solutions for customers are at the heart of WABCO's differentiation," says Osamu Saito, WABCO Japan Business Leader. "We are passionate about adding value for our OEM and fleet customers in Japan as they pursue domestic, export and global market opportunities."