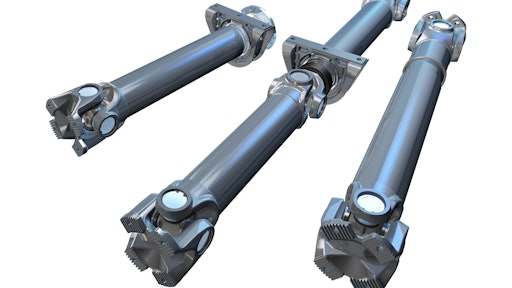 Dana Incorporated announces enhancements to its Spicer Compact Series Plus driveshafts that reduce component weight and improve overall performance for trucks and buses ranging from 8-60 tonnes (9-66 T).
Dana is currently producing versions of this driveshaft for medium-duty vehicles, and a series of six models to support a full range of torque capacities will be available by the second quarter of 2017.
Spicer Compact Series Plus driveshafts leverage Dana's expertise in driveshaft design to fully optimize performance. These driveshafts weigh up to 10% less than competitive offerings, making them the world's lightest steel driveshafts in their class. They also enhance vehicle performance through extended product life, increased durability, and improved sealing performance.
"With the new Spicer Compact Series Plus driveshafts, our engineers have created a range of durable driveshafts that also helps original equipment manufacturers meet growing efficiency standards," says Mark Wallace, President of Dana Commercial Vehicle Driveline Technologies. "Our technological expertise combined with a comprehensive, flexible program to support global production demonstrates Dana's proficiency in equipping trucks around the world with industry-leading solutions."
Dana will exhibit the Spicer Compact Series Plus driveshaft along with other drivetrain innovations for the commercial-vehicle market at IAA Commercial Vehicles 2016 in Hall 17, Stand A24.