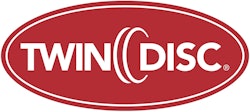 Twin Disc Inc., a global leader in power transmission technology for marine and land-based applications, announced that effective March 4, 2019, Palmer Johnson Power Systems will acquire Twin Disc's distribution rights to sell and service Twin Disc products previously supported by Mill Log Equipment Co., Inc. and Mill Log Wilson Equipment Ltd. (Mill Log).
As part of the transaction, Palmer Johnson Power Systems, a longstanding Twin Disc distributor currently serving the Midwest United States, will purchase inventory and operational assets from Twin Disc. Palmer Johnson Power Systems will acquire Mill Log's assets and distribution rights in the Pacific Northwest and Western Canada for approximately $7.5 million.
"The transition of Mill Log to Palmer Johnson is an exceptional opportunity for Twin Disc, our distributors and our customers," says John H. Batten, President and CEO, Twin Disc, Inc. "Within our organization we will be able to reallocate resources to continue our focus on product development and engineering; our customers will benefit from a cohesive sales and customer service experience from the Midwest to the West Coast; and, both Palmer Johnson and Mill Log will gain resources and relationships through the acquisition."
Companies in this article