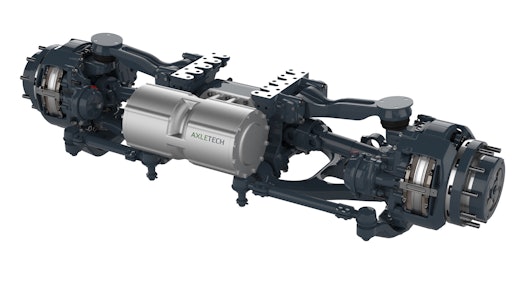 AxleTech
Electrification has been advancing rapidly in recent years, with drivetrain systems being just one of the many areas of focus for manufacturers. Steve Stover, Senior Manager of Product Strategy for the Powerdrive Systems Division at BorgWarner Inc., says the company has seen a significant uptick in interest—for both hybrids and pure electric vehicles, and in heavy-duty on- and off-highway applications as well as light vehicles. "Compared with the activity we saw in the 2010/2011 timeframe, this to me is distinctly different," he says. "There's a significant amount of increased interest from OEMs, tier 1 suppliers and system integrators. And not just research projects, these are real programs with commitments."
For commercial vehicles, Stover says there are a lot of similarities to what's being done in the light vehicle segment, particularly in regards to the amount of interest in pure electric solutions.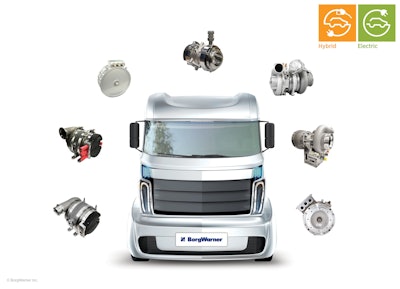 Transit buses are a prime example; while even just a couple of years ago electric buses were a small segment of the market, today their development and use has greatly expanded. Jason Gies, Director of Business Development at AxleTech, says he likes to quote Proterra Inc. CEO Ryan Popple who says the game is over for transit buses. "There's really no reason to buy a diesel transit bus anymore other than the initial cost. But if you look at total cost of ownership over the life of the vehicle, there is absolutely no reason to buy a diesel transit bus."
Gies says it's been exciting to watch a company like Proterra evolve in recent years as electrification has taken a greater foothold in the industry. This was particularly apparent at last year's IAA Commercial Vehicles show, as well as bauma China where he says "it was all electrification walking around. I think all the major players are showing electrified powertrain systems in one way or another."
He notes that even some of the smaller off-highway OEMs are looking into electrification, as are their customers. Driving the increased push to electrification are regulations around the globe to minimize or completely ban use of diesel-powered equipment, particularly in city centers, as well as increasingly stringent emissions regulations for both the on- and off-highway markets.
Dane Carter, Senior Manager of Business Development for the Powerdrive Systems Division at BorgWarner Inc., says lower maintenance and operating costs are also a prime motivator, especially for off-highway applications.
Also helping drive electrification has been the reduction in the price of batteries. However, Gies cautions the prices are not coming down as rapidly in the commercial vehicle space as some might think. For companies making tens of thousands of vehicles a year the price is in fact coming down but for smaller companies making 10-100 vehicles batteries are still expensive.
"Drivetrain electrification is advancing across all the markets we serve, but since the off-highway market is so diverse, some markets are moving toward electrification faster than others," notes Ettore Cosoli, Vice President of Global Off-Highway Engineering for Dana Incorporated. "For example, underground mining equipment, aerial work platforms, and construction equipment used in city centers are moving rapidly toward electrified drivetrains."
He says the diversity in electrification applications is driven by numerous factors. In underground mining, for instance, the "trend is propelled by a desire to reduce the demands on mine ventilation, which is a major safety concern and operating cost. On the other hand, local government regulations restricting and even banning the use of diesel engines is driving the need for electrified construction vehicles used in city centers."
When it comes to technology, he says development of bridging solutions that enable electrification without requiring radical changes to vehicle architectures is rapidly propelling the progress of electrified drivetrain products.
Creating a variety of products to meet varied application needs
Cosoli says one size does not fit all in the electrification of off-highway vehicles. Because of this, Dana has a wide-ranging and rapidly growing portfolio of drive and motion solutions for supporting electrified vehicles. "We offer a comprehensive selection of e-Gearboxes, e-Transmissions, e-Axles, and e-Hub drives available now for current vehicle architectures, and we are developing fully integrated electric-drive technologies optimized within a single package for the electrified vehicles of the future," he says.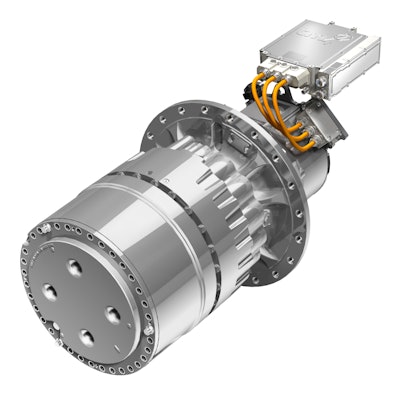 In addition, the company has made several strategic moves to support its electrification and hybridization efforts such as the acquisition of Brevini, taking majority ownership of TM4 Inc., and most recently acquiring the SME Group. Dana has also signed an agreement to purchase the drive systems segment of Oerlikon Group.
The purchase of TM4 has positioned Dana as a single-source supplier for full e-Drive design, engineering and manufacturing capabilities, says Cosoli. Meanwhile, it has allowed TM4 to fine-tune the design and performance of its technologies by leveraging Dana's close, tier 1 supplier relationships, global engineering footprint and experience in systems integration.
One of the products that has come from this new partnership is the Spicer Electrified with TM4 e-Hub Drive, a fully integrated electro-mechanical system combining Dana's heavy-duty Spicer axle expertise, Brevini planetary drive designs, TM4 electric motor technology and advanced control expertise into a single package. According to Cosoli, one of the primary considerations when designing the e-Hub drive was to create a solution that fits into existing vehicle design architectures. "While we expect to see manufacturers undertake a major redesign to electrified vehicles that will allow them to fully optimize performance, vehicle manufacturers today are looking for ways to add electrified propulsion without making radical changes," he explains. "The e-Hub drive we engineered here uses a direct drive, which is a straightforward way to deliver electrified propulsion in a way that fits within the existing design envelope for the drivetrain."
Keeping a similar architecture was an important aspect when developing the e-Drivetrain for Mecalac's e12 electric excavator. "Mecalac placed a premium on developing a fast-to-market solution that uses the same frame structure and axle design envelope, which is why we designed a solution using the proven Spicer 112 axle and Spicer 367 shift-on-fly transmission with some minor adaptations to accommodate the introduction of an electric motor," says Cosoli.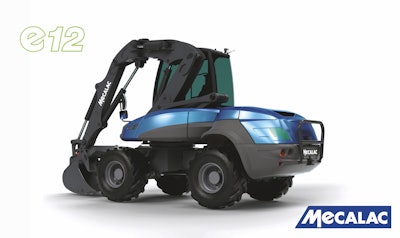 To meet the demands of the electrified machine, he says Dana engineered and produced a customized input shaft and flanges that enable the new system to provide the needed ratios for tractive force and maximum driving speed. Cosoli also notes the companies worked together closely on the development of the powertrain to properly address the numerous design challenges and meet the development timelines. These challenges included identifying components that would fit within the existing vehicle architecture and deliver the required performance; determining an optimal shifting strategy; isolating the proper ratio ranges for multiple operating modes; and designing precise, high-efficiency linkages from the motor to the transmission and from the transmission to the axle.
Ensuring its electric drivetrain solutions fit in the same space claims as traditional components has been a key design factor for AxleTech, as well. This was the case when developing an electric drivetrain with Proterra, and is also an important factor for the fully integrated e-axle system it is developing for Thor Trucks (see sidebar below), and will be offered to other customers in the future. "We didn't want to make the manufacturers change their current vehicle architecture today—so frame rails, suspensions, wheel ends, tires, brakes—things like that we wanted to keep as standard as possible," explains Gies. "This would basically be a bolt-in solution for a standard axle today."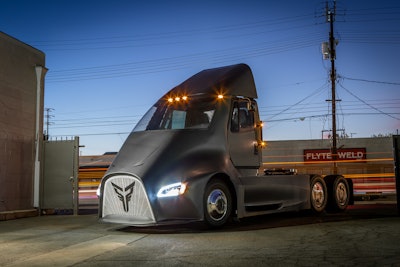 Whether an electrified product is used in on-highway, off-highway or military applications, Gies says AxleTech is looking to utilize similar technologies in each of them to help keep costs down. For instance, its 5000 Series eISAS Electric Independent Suspension concept—which came about from defense customers asking about electrifying their vehicles—applies technology AxleTech has been working on to its standard ISAS product .
The eISAS features two torque vectored electric motors in a fairly standard housing setup, says Gies. One motor drives the left wheel and one drives the right; this enables the speed of each wheel to be controlled independently. "We are able to run each wheel individually so you can do a Bobcat-type maneuver [in which] you can turn one side of the vehicle in one direction, [and] the other side in another direction," he explains. The system is also capable of regenerative braking.
Other than in-wheel motors, he says this setup is the most efficient way to get power to the wheels. In this manner, power is going directly to the wheels, instead of through an engine, transmission, driveshaft and other components as is the case in traditionally-powered vehicles. Though initially developed for military applications, Gies says AxleTech is using a similar architecture in its other axles coming out in the future, including an off-highway system being launched at bauma.
Carter says one of the trends BorgWarner is seeing in regards to drivetrain electrification is increasing use of electric axles in which motors are integrated into the chassis at the axle. For these types of applications, the company offers its high voltage hairpin (HVH) motors, available in a 410 or 250 model. These motors can be applied in various configurations for use in hybrid or pure electric vehicles, and can be placed in various positions in the powertrain depending on what works best for the application, he says.
Instead of using round wire as in traditional electric motors, the HVH models have a rectangular copper conductor inserted into the stator slot, explains Stover. "One of the big advantages of that is you get more copper in the slot which means you have higher current density [and] higher performance."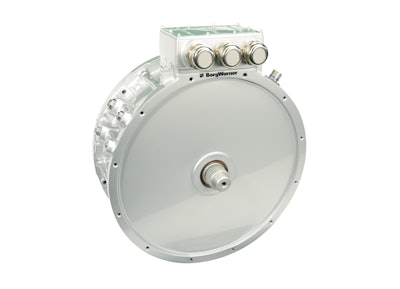 The motors have a permanent magnet synchronous design which enables them to provide a higher efficiency means of electromagnetically putting torque into the rotor. A proprietary insulation system designed for high voltage enables them to run in applications ranging from 200-800V. The insulation system also ensures the motors will survive the duty and life cycle requirements of heavy-duty on- and off-highway applications.
In addition, BorgWarner provides the power electronics that control the motors. "We drive to be more of a system level provider so we can provide a matched motor and inverter to a customer [giving them] a one-stop-shop for a system," says Stover.
With its new e-Powertrain division, FPT Industrial is offering several drivetrain components to aid vehicle electrification including e-axles, diesel- and gas-hybrid powertrains, as well as a hydrogen fuel cell concept powertrain.
The E-Axle is a compact and flexible solution which transfers power and torque to the wheels through the gear unit, and can be adapted to various vehicle layouts and weight capabilities, says Daniele Pozzo, FPT Industrial Product Planning Manager. It consists of a powerful electric motor integrated into the gearbox, and utilizes high-quality gears to deliver up to 250 kW (335.3 hp) of power output and 98% efficiency.
According to Pozzo, the axle's compact design supports three vehicle layouts—front, rear and all-wheel drive—and use with independent or rigid suspension systems, simply by changing the external shape of it without impacting the core components. It can be used in light- and medium-duty commercial vehicle applications, as well as be developed for compact agricultural and construction equipment.
Electrification going forward
As the industry shift toward electrification has grown, so has the number of companies entering the market, such as FPT. "Our e-Powertrain division was a natural outcome of the trend of alternative traction, our future-focused strategy and our expertise in challenging ourselves," says Pozzo. "We do not see only one mode of power ruling the market, but rather multi-energy sources, electrification being one of them."
For light commercial vehicles and city buses, FPT sees battery electric as the main power source and for heavier duty vehicles it believes hydrogen fuel cells will be the direction the industry takes due to their advantageous power-to-weight ratio that will ensure a high payload capability, which is why the company has developed its hydrogen fuel cell powertrain concept. When considering electrification for on- and off-highway applications, Pozzo says the main difference is that both electric assist and electric traction technologies are considered for on-road while off-road is mainly electric assist.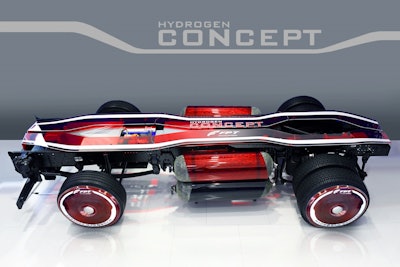 Pozzo notes that unlike the on-highway sector where electrification has grown more rapidly, in the off-highway space the focus is still more on concepts. However, FPT believes electrification is possible in off-road applications such as agriculture and is investigating potential designs with its sister brands within CNH Industrial.
"We anticipate there will be a significant time period before the engine as we know it today is replaced by a purely electric power source," says Pozzo. "This is because of electric power's limited working window, extended charging time, and the volume of batteries required to power high horsepower [equipment]—together with the relatively high price point of battery cells—precluding current viability."
When developing electric drivetrain products for off-highway vehicles, Cosoli says it is paramount to understand each machine's unique duty cycle "because ensuring the performance of the machine is the top consideration for customers."
In general, BorgWarner's Stover says we will continue to see the trend of electrification—for both on- and off-highway applications—increase, and believes within the next decade electric vehicles will become more commonplace.
However, battery technology and pricing, as well as the infrastructure for charging, will continue to be among the prime drivers determining how quickly markets can move toward electrification at a high level, concludes Carter.
Companies in this article