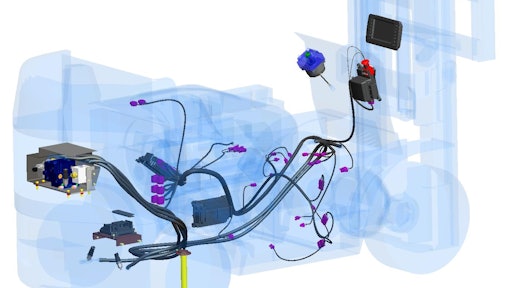 Eaton
Original equipment manufacturers (OEMs) in industries from material handling to construction and agriculture are looking for new ways to optimize steering as they design and redesign equipment. New solutions, such as steer-by-wire systems, are changing the landscape and opening up new avenues to improve operator comfort and safety while making machine design easier for the OEM.
In this article, we will explore some of the primary advantages steer-by-wire systems offer and what needs to be evaluated in the design and implementation of these advanced platforms.
Evolution of the options
While OEMs can still leverage traditional and electrohydraulic (EH) steering options today, new steer-by-wire systems take capabilities for operator control to another level. In steer-by-wire steering systems, all of the commands – whether joystick, steering wheel, GPS navigation or automated command – are processed by a control system that drives an EH valve or valves to provide flow to the steered wheel actuators, typically cylinders. The steering control unit (SCU) is completely removed in this system, which brings a host of benefits to the machine operator and designer.
For OEMs considering a steer-by-wire system, understanding what their machine needs to do is extremely important in determining the right path. While steer-by-wire does not typically reduce direct costs, it offers many machine improvements, and in some cases overall installed cost reductions, that can make the investment worthwhile. Weighing these enhancements is key in deciding if the system is worth deploying.
Driving performance
When evaluating any steering option, OEMs must consider the various ways a machine might be used in the field to ensure it has the features in place for ideal performance in all circumstances. Does the cab or operator's seat need to rotate to make the machine easier or safer to drive? Steer-by-wire eliminates the need for a steering column within the cab, allowing for much greater design flexibility. If removing the steering column will improve the machine performance, it could be a great candidate for a steer-by-wire system.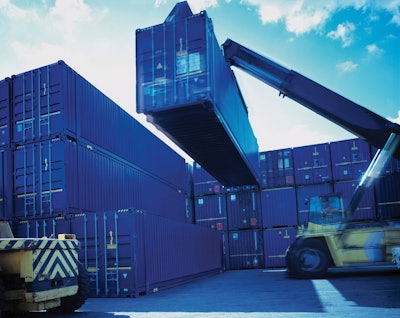 Operator visibility is another major factor when it comes to selecting a steering system in industries like material handling. When material handling equipment with a traditional steering system picks up a large container, for example, drivers must maneuver with the container in front of the vehicle, limiting their view. With the steering column removed in a steer-by-wire system, operators could rotate the seat 180 degrees so the container is at their back to avoid any blockage.
Even in applications where the operator seat doesn't need to rotate, steer-by-wire systems improve visibility because the lack of a steering column increases operator line of sight. Machine designers can also reduce the size of the steering wheel and center console with a steer-by-wire design, keeping them out of the windshield space for additional improvements in visibility.
The flexibility factor
With the steering column removed, steer-by-wire systems offer additional capabilities for OEMs. For example, less hose is required on the machine, and hose no longer needs to run to the cab. This opens the door to more flexible machine design. Want to rotate the cab? Now designers don't have to re-route or attempt to rotate a bundle of hoses, and there is less hose to run and tighten during machine build. This helps speed up and simplify the manufacturing process while reducing installation costs – as well as the direct cost of the hose. Hydraulic components are also a source of noise in the cab. In a steer-by-wire system, the hydraulics can be mounted strategically to reduce cab noise and improve operator comfort.
Steer-by-wire systems enable a single valve to receive multiple steering inputs, eliminating the need for a separate valve for each input. This allows for the accommodation of various steering arrangements – two wheels, a wheel and a joystick, or a wheel and a paddle, for example. Operators can select what's appropriate for how they're using the machine and for their own preference and comfort.
With steer-by-wire, OEMs can more easily implement one common cab design across different platforms, because the valve size does not affect the cab, and different steering wheel sizes are not necessary. A single, cross-platform cab could reduce the manufacturing footprint. At the least, it would make manufacturing operations more efficient.
Similar to EH steering and other system offerings, steer-by-wire solutions provide parametric steering capabilities, or the ability to change the aggressiveness of the steering based on vehicle speed, driver selection and more. An OEM or machine owner could program the machine to allow for quicker steering inputs while the machine is in work mode, and slower inputs while the machine is in drive mode, which can improve vehicle stability and safety.
Autonomy offers another advantage as the technical landscape continues to evolve. If an OEM is looking for the machine to be autonomous at some point, whether in a limited auto guidance setting or full-on remote control, steer-by-wire is a must.
When it's time for design
When designing a steer-by-wire system, there are a number of factors to consider. As a starting point, machine designers must understand their requirements from a regulatory standpoint and how the machine needs to respond in the case of a fault.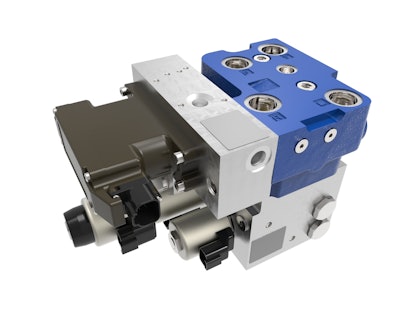 Once the regulatory and reliability requirements have been evaluated, the steering system can be tailored to the specific needs of the application. Working with a component manufacturer, the designer can outline what capabilities are needed and assess the options.
Depending on the application, redundancy could be a factor to keep in mind. Some machines may need a fully redundant steering circuit to maintain full vehicle functionality, while others may need a simpler backup configuration. For example, an Eaton ASV60 valve in a steer-by-wire system might be rated to 60 lpm (15.9 gpm), with precise spool position capabilities. In a machine that doesn't ever see road traffic, the ASV60 could be mounted to a lower flow, cost-effective backup valve with the capabilities needed to steer the machine in an emergency. There's a sliding scale when it comes to redundancy as well as non-redundant options to consider if vehicle usage and safety analyses permit.
Value in the valve
Ultimately, OEMs should look for steering valves that offer a high degree of flexibility to help meet their needs and requirements. Different component manufacturers have many different offerings – some valves can manage EH or steer-by-wire systems, but not both. Others can be used in an EH or steer-by-wire arrangement. Some must be paired with the manufacturer's controller and software, while others can be integrated into an OEM's proprietary system. Certain valves require sensors for additional diagnostic capabilities; others have embedded sensors or the capability to report back on a fault without additional sensors.
The mobile off-highway industry is headed to steer-by-wire systems, but for many OEMs, the time isn't right or the application isn't there yet. With a flexible valve in play that works in both electrohydraulic and steer-by-wire configurations, OEMs can design a steering system that meets their needs today while preparing for the future.
Companies in this article