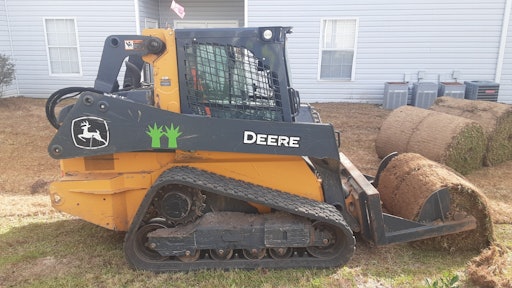 United Skid Tracks
Popular in North American operations, skid steer and compact track loaders have become essential accessories to utilize while working on various jobsites, especially those with a soft terrain that can be difficult to maneuver. Along with an increase in this equipment as the preferred choice for various applications, automation technology has further developed to make everyday tasks more efficient.
For more about the expanding technology being utilized on skid steer track loaders, read on and learn the newest trends that are taking over the industry.
Technology Trends to Keep an Eye On
With manufacturers and companies such as John Deere leading the development of precision construction technology for skid steers, it is important to note up-and-coming trends and technological advances in skid steers, and what that can mean for your future operations. Automation technology add-ons becoming more prevalent in the industry are developed with the goal of creating more operator-friendly interfaces and track loaders with increased agility.
Because of this, some of the current trends to watch out for regarding the advancement of technology on skid steer tracks include the following.
1. The Use of Telematics
The advancement of telematics on skid steer track loaders allows for remote access as an alternative to the manual maneuvering of the loaders themselves.
Because of this, owners of skid steer loaders are able to check on the overall health of their machines, troubleshoot any problems that occur, and even locate their track loaders, all from their smartphones.
2. Assistance With Grade Control
When implementing specialized technology to maintain grade control of your track loader, grade indication systems allow for the machinery to run without having a worker who needs to check on the grade. On top of that, no additional hardware or software would be required to allow real-time grade checks from the skid steer's main cab.
3. Skid Steer Smart Attachments
Smart attachments refer to the assortment of portable technologies that can be applied to your skid steer. The advanced machine technology includes attachment recognition, tailored controls, and control screens that can instantly identify which smart attachment is connected.
From there, the machine's joystick controls can be further tailored to meet the needs of its operator. An example of this includes the Caterpillar Smart Attachments.
4. The Introduction of Electric Equipment
As efforts for environmentally friendly alternatives continue to make strides, many OEMs also continue to explore more green alternatives, such as hybrid and fully electric machines.
With the goal of introducing over 20 electric track loader machines by 2026, OEMs continue to listen to the growing demands of their consumer base, as well as make machines that are more productive and user-friendly for jobsite operations.
5. Automating Creep Work
Inspired by the cruise control features in today's automobiles, the latest generation of track loader automation comes with adjacent creep speed features to satisfy individualized needs.
For example, Smart Creep for the Cat D3 series can sense the load on the attachment itself. As a result, the loader automatically and optimally balances the attachment load with the use of attachment sensors and proprietary software.
Why Add Technology to Skid Steers?
The benefit of adding assistance technology to skid steers can be seen in the return on investment that comes with operator comfort. Additional benefits of developing and advancing automation technology can include:
Enhanced performance and timeliness — The use of automation technology in everyday operations will allow for workers to complete tasks more efficiently and quickly, which is crucial to smooth and steady operations.
Decrease in equipment wear and tear —

On both a short-term and long-term basis, skid steer tasks will be completed with fewer passes than manual operations, which will reduce the depreciation of the machines.

Less labor is needed to operate —

Since a lot of precision construction technology can be powered and operated from your smartphone, fewer workers are needed to complete tasks. This can allow your company to save money on labor, as well as equipment, down the line.
What Is the Future of Skid Steer Tracks?
As technology continues to evolve, the track loader industry follows suit, implementing advancements that allow for operations to be smoother and more efficient. These technological, precision construction advancements will become more normalized on jobsites as business owners and operators realize the practical benefits they provide in the long run.
The question now is: How long will it take for companies to adopt this "smarter, not harder" concept into their everyday operations?