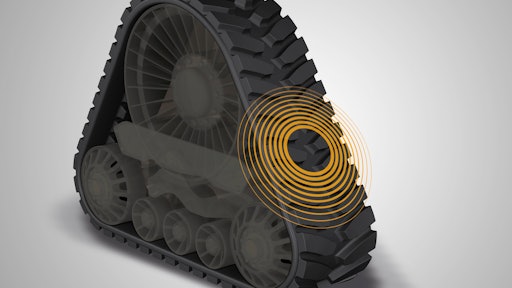 Technology company Continental is unveiling the first-of-its-kind proprietary track-condition monitoring concept for the Trackman at Agritechnica 2017 tradeshow in Hanover, Germany.
"Our core value as a brand is to deliver innovations that are meaningful to our partners in the field," says Rob Schultz, Continental's Product Manager for Rubber Tracks. "This new track sensor concept was developed by the engineering team at our St. Marys, OH, plant, and communicates with the operator. It is another one of those options we have developed to help revolutionize farming."
The track sensing technology incorporates a microchip molded into the tread of the track, and communicates directly with a user-friendly monitor in the cab to provide operators with real-time data. "This interaction allows the tractor operator with the information needed to predictively maintain its tracks, avoiding downtime altogether," says Schultz. "It's a direct result of Continental's global focus of knowledge sharing and vision of tomorrow's needs." The track condition monitoring recognizes potential issues early on to help avoid downtime. "In the future, targeted monitoring will enable predictive maintenance, which means that operators can respond to components before downtime occurs and replace them accordingly."
Continental's Trackman has pioneered the track industry for more than 20 years, holding more patents than any other rubber track manufacturer in the world. From fully molded, one-piece construction to innovations that ensure proven performance in the field, Trackman technology enables users to spend fewer hours in the cab while increasing productivity.
Companies in this article