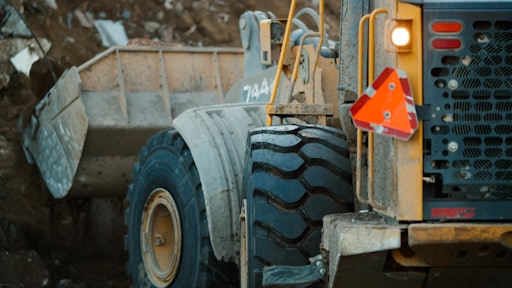 Yokohama Off-Highway Tires America
Selecting the best wheel loader tire can have a dramatic impact on operating costs. "Two of the most common triggers for tire failure for wheel loaders result from mismanagement of tire maintenance, or choosing the wrong tire for the application," says Robby Hamby, Director, Bridgestone OTR and Ag Product Programs. It's critical that the right tire type, rating and pattern are selected.
The size and capacity of the wheel loader affects the correct choice. "Choose a tire with the load capacity that meets or exceeds the gross vehicle weight of the loader," adds Hamby.
"We can look at wheel loader size in three ways: the gross weight of the machine itself, the capacity of its bucket and the horsepower and torque the loader exert on the wheel," says Bruce Besancon, Vice President, Yokohama Off-Highway Tires America. "As any of those three measures increases, demands on the tires grows significantly.
"Every aspect of a tire is engineered and manufactured with those demands in mind," he adds. "The ability of the entire tire to handle a load – particularly a dynamic load that is changing as the bucket is raised and lowered – the capacity of the bead and sidewall to withstand the force from the axle, and the capability of the tire to flex and roll without building up excess heat are all critical. Buying more tire than you need does not make economic sense, but neither does buying a tire that is under-spec'd for the application and doomed to fail."
"Bigger machines carry heavier loads, which can translate into more heat buildup," explains Laurent Greppi, Global Product Category Manager, Camso Inc. Choose the right rubber compound to avoid premature wear. Also consider the operator. "When selecting a tire for bigger machines, operator fatigue is an important issue. Just changing the tires could have significant impact on vibration levels in the cabin, leading to stress, fatigue and ultimately safety issues. Talking to operators regularly about machine performance, especially after changing tires on your loaders, can be an effective way to assess performance."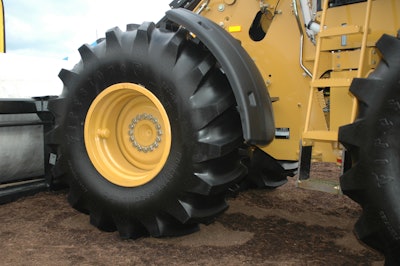 Choose tires based on application
"Wheel loaders are typically purpose-built for very specific applications and demand tires that are just as specific to the material being dug and moved, the surface condition and the distance and speed of travel," says Besancon. "With those factors in mind – as well as the bucket size and the load to be carried – you can choose the tire with the construction, tread depth and pattern, and compound for the application."
"There are many factors to consider: the type of machine used, its size, the application for which it is used and the type of operations it carries out," says Pireo Torassa, Field Engineer at BKT Europe. "Another essential factor in selecting the best tire is the condition of the soil in which it works." Work times, distances covered and type of route are also factors. Finally, consider the weight which the machine must transport, load and/or unload.
"To extend the life of a tire, it is necessary above all to choose the perfect product for your needs," says Torassa. "We always tell customers to put their trust in our tire consultants and suppliers. These are increasingly specific and hi-tech products. It is the expert's task to successfully translate each company's requirements into selecting the perfect tire. By choosing the right product, you save on time, consumption and possible replacements and downtime."
Radial versus bias
You need to decide between radial or bias tires. "Radial tires offer better cut resistance, improved traction and cooler running that will maximize uptime, while bias tires offer more stability, which will provide better ride comfort in larger loaders," says Hamby.
Longer travel cycles tend to build up heat. "That is where you do the math on whether to invest in radial tires that can allow you more ton miles per hour (TMPH) because they can operate more safely and efficiently over longer distances," says Besancon.
A radial tire tends to be more expensive than a bias tire. However, the machine's total cost of ownership may be lower because the radial provides better traction and flotation. It also contributes to lower fuel consumption. Radial tires are ideal in applications where traction, tread wear and distance are important factors. They are well suited for wheel loaders operated on finished surfaces for loading applications.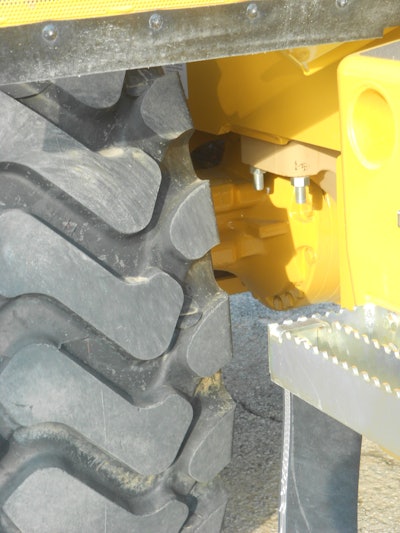 Choose correct tire tread
After determining the best tire type for the application, the next step is to select the tread pattern or tire design. "The correct tread design, tread depth and load capacity are key in determining the correct tire that will maximize your loader's performance," says Hamby. "It's important to understand whether you are looking for a tire that provides better heat resistance, cut resistance and traction, or wear to improve total cost of ownership."
L-type tires are designated for wheel loaders and wheeled dozers, while there are also E-type tires for earthmovers, G-type tires for graders and C-type tires for compactors. For the loader tires, there is a standardized identification code:
L2 Traction Regular Tread Depth
L3 Rock Regular Tread Depth
L4 Rock Deep Tread Depth
L5 Rock Extra Deep Tread Depth
L4S Smooth Deep Tread Depth
L5S Smooth Extra Deep Tread Depth
According to the Tire and Rim Association, there are three general classifications for tread thickness – regular, deep and extra deep. Deep and extra deep are 1.5 and two times thicker, respectively, than regular.
"Balancing the need for cut/wear resistance and heat dissipation can dictate whether the best investment is in regular tread (an L2 or L3 tire), a deep tread that is 50% deeper (L4) or extra-deep tread (L5), which is 2.5 times the depth of a regular tread," says Besancon.
Knowing the loader's application is critical to understanding which tire to run. "For example, if the loader is used to load out over the road trucks at a stone quarry, one might consider an L3 tread design," says Tim Good, Open Pit Sales Manager, Maxam Tire. "But if the loader is used in multiple applications like feeding shot rock into the crusher and then loading trucks with the finished material, one should consider an L4 application. The L4 provides a deeper tread for more protection, traction and longer wear due to a deeper tread. An L5 loader tire should be considered when working in any moderate to severe underfoot conditions." The deeper 250 level tire maximizes protection of the casing. But with that deeper tread option, the user is limited to 5 mph (8 km/h) for no more than 250 ft. (76.2 m).
"If the loader currently has a wide base (80 aspect ratio) tire, you can go from an L3 to an L5 tire," notes Good. "What the loader is used for determines the tread pattern and tread depth required. Other options include a low profile (65 Series) aspect ratio tire. Generally, the loaders are ordered from the factory with the low-profile tires as the tires require a wider rim. For example, if the loader is fitted with 29.5R25 tires, one can convert over to 875/65R29 tires with new rims. The overall diameter of the tires is equal even though the rim O.D. goes from a 25- to 29-in. rim (63.5- to 73.7-cm). Plus, the 65 series tire fits on a 2-in. (5.1-cm) wider rim. The advantage to the user is that the low profile 65 series tire, when mounted on a loader, has a 15% increased capacity, providing more productivity with improved ride, stability and traction."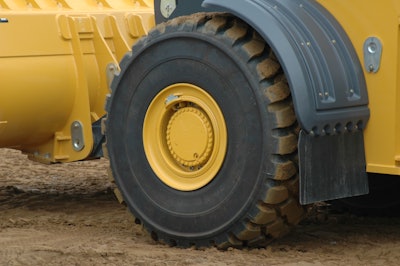 Match Tires to Underfoot Conditions
Underfoot conditions will have a major influence on correct tire choice. "If the piece of equipment is being operated in a very soft underfoot condition, one would need to consider an L2, L3 or even L4 depending upon what the machine is doing," says Good. "The difference is lug to void ratio. The fewer lugs and the more voids lead to more traction. This is because the tread can clean out much faster to provide grip in each revolution a tire makes."
There are tradeoffs. Normally, the higher the net (lug) to void (space between the lug) ratio the more wear. "One cannot obtain a high net-to-void ratio without getting less traction," explains Good.
"When the machine is placed into a 'load and carry' operation, it's crucial to note underfoot conditions," says Good. "If the machine is operating in the pit area loading shot rock from the face to the in-pit crusher or conveyor, one needs to decide between an L5 deep rock tread tire or an L4 rock tread tire. This will depend on the loaders' travelling distance. If greater than 250 ft. and faster than 5 mph, then an L4 should be considered."
Each jobsite poses unique demands. "If we're working at the face of a quarry, that loader is operating on broken rock – a brutal environment for cuts and impact damage," says Besancon. "On the other hand, it is probably not traveling very far to dump its bucket, so heat buildup may not be the primary factor that needs consideration. We can specify a very deep, cut-resistant tread that can withstand the rock without as much concern about the thick tread trapping heat in the tire. In another case, aggregate or sand may be lifted and hauled a much greater distance across a better surface. In that situation, the tire is not as likely to be subjected to the impact, but heat buildup from friction and deflection is the bigger concern. A tire with heat-dissipating nylon breakers and compound would be a better choice."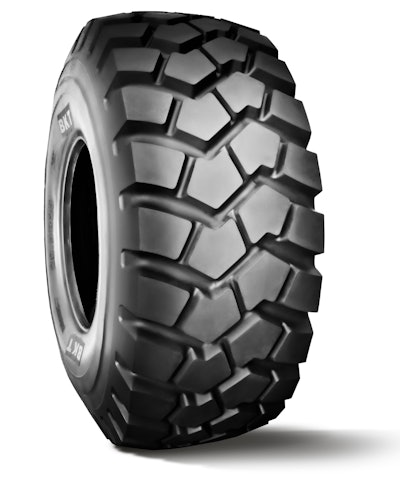 "Once we've got the basics down, we can look at value and cost per hour," says Besancon. "In some applications, radial tires quickly become a better investment because they last longer, wear more evenly and reduce fuel consumption because of their flatter, more even footprint. On the opposite end of the spectrum, loaders in severe duty situations like scrap yards or waste transfer stations can benefit dramatically from switching to solid tires, which wear longer and are impervious to flats and punctures or sidewall cuts. Even foam-filled pneumatics can be sidelined when the sidewalls are slit, so it's worth the extra cost of a solid tire in those tough cases."
Pick appropriate tire compound
Are you working in abrasive conditions? "A tire with a proven, tough rubber compound with resistance to chunks will be your best ally," says Greppi. "If you're working in soft mixed surfaces where traction is required, you'll look for a tread with deeper lugs to guarantee the machine won't get stuck, meaning that the application also impacts the tread (or sculpture) choice. If you are working in hot temperatures where temperatures can soar, you'll need to look for specific tires that use rubber compounds and features that help eliminate heat build-up that could lead to failure."
"Compound chemistry is extremely important and it has been an important focus for Yokohama for decades," says Besancon. "We offer a wide range of compounds based on the uses of the tire, from standard multi-use RE-R compounds to special compounds for extra heat resistance (HR-V) or cut resistance (CP-S). There is both art and science in selecting the best compound for a particular application based on the tradeoffs among heat, abrasion and cut resistance. That is a conversation you'll want to have with a tire dealer who understands your business and your equipment. That dealer can save you a tremendous amount of money and trouble."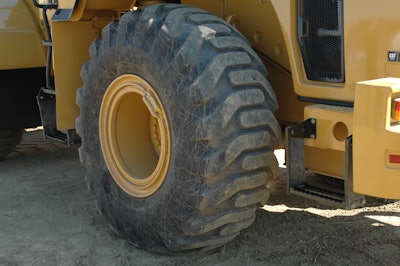 Companies in this article