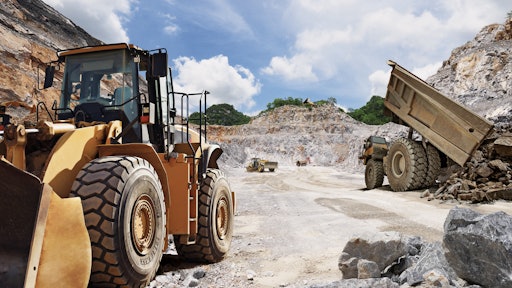 BKT USA Inc.
Tracks and tires are an integral part of any heavy equipment design as they ensure mobility and productivity. The wrong selection can greatly impede an end use customer's ability to get their work done.
"Winning in the off-highway tire business is all about giving customers higher performance and lower total cost of ownership (TCO)," says Brian Sheehey, Vice President—Sales, Yokohama Off-Highway Tires America, Inc. (YOHTA).
As such, he says tire manufacturers are continually focusing their efforts on improving rubber compounds and tread patterns. Doing so can help ensure better performance in various applications as well as improve comfort for equipment operators and minimize unplanned downtime.
Combining features improves customer experience
OEMs and their end use customers have a variety of requirements which they expect their tracks and tires to meet. They must be able to travel over a wide range of terrain and withstand use in harsh operating environments, among other things. Because of this, track and tire manufacturers need to develop products capable of meeting this variety of needs.
Sheehey says YOHTA has been developing "hybrid" tread patterns combining the best aspects of tread blocks from industrial and truck designs with the traction and self-cleaning advantages of various lug configurations. Bringing these different qualities together into a single tire helps to ensure maneuverability and other performance factors for equipment owners. He says this hybrid tread pattern can be seen on the company's Alliance 550 Multi-use radial "where the blocks are laid out in a curved configuration like self-cleaning tractor lugs flanking a dense centerline for more stability on the road.
"We are also becoming much more innovative in our use of sipes and stepped blocks, or lugs, for added traction which are evident in the Yokohama RS02 radial snow tire for graders or the all-season performer, the Galaxy Mighty Trac ND skid steer tire," continues Sheehey.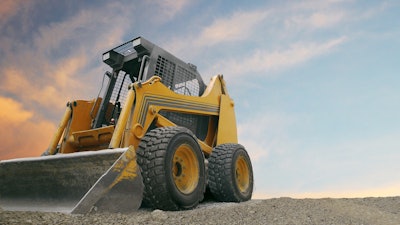 He says increased interest in ergonomics and worker safety from customers has also brought about an awareness of the effects sidewall and tread patterns can have on vibrations and other impacts experienced by operators.
According to Scott Holub, Manager – Technical Services at BKT USA Inc., there used to be a relatively even split between sales of radial and bias tires. However, the company is seeing a shift toward more radial tire sales. Whereas bias tires tend to be used for more price conscious applications, he says radials offer lower rolling resistance which leads to improved fuel economy as well as improved traction and puncture resistance.
This combination of features can greatly benefit a customer's bottom line which is vital in off-highway applications such as mining. Improved puncture resistance will help to reduce costly unplanned downtime. Holub says mine sites are getting larger, requiring equipment to travel longer distances. Improving their fuel economy through lower rolling resistance can help to reduce fuel costs. In addition, he says the further a machine travels the more strain and heat placed on the tire. "That is probably the single greatest enemy of a tire is overheating," he says.
Sheehey also sees continued growth of radial tires in construction and industrial applications. He says they perform better than bias tires on machines with hauls in excess of 100 yd. or which spend a significant portion of their time on the road. "The broad, flatter footprint of the radial improves traction and lowers rolling resistance," he explains. "Radials, especially steel-belted or all-steel ones, minimize heat buildup and dissipate heat much better than bias-ply tires do, so they last longer. And they are more comfortable for operators and easier on equipment because their more flexible sidewalls absorb shocks more effectively."
In North America and Europe, he says YOHTA has seen greater adoption of radial tires on large agricultural equipment as well as construction machinery in Europe. Although adoption of these tires in the U.S. and Canada for construction equipment has been slower, he believes it will increase in the coming years as customers see the benefits and there is increased pressure to perform in an economical manner.
Versatility to meet varied application needs
Andy Gaffney, Product Category Manager, Global – Construction Tracks & Systems, and David Smith, Quarry and Construction Operational Marketing Manager, North America, at Michelin North America Inc. say the construction market is currently trending toward the use of tracks which are more versatile. This is due in large part to the growth of the rental market in North America and worldwide. The booming housing market—including new construction and home improvement projects—has increased the amount of people renting compact equipment for their projects.
"End users are looking for traction, minimal ground disturbance and reliability, while the rental companies leasing the equipment seek tracks that offer longevity to ensure lower operational costs and high performance," say Gaffney and Smith.
In January 2022, JLG Industries Inc. announced it would begin offering Quad Tracks for its JLG 600S and 660SJ boom lifts. The company chose to do so to increase machine utilization and flexibility for working on a variety of surfaces such as sand, gravel, mud and paved streets with curbs and sharp transitions.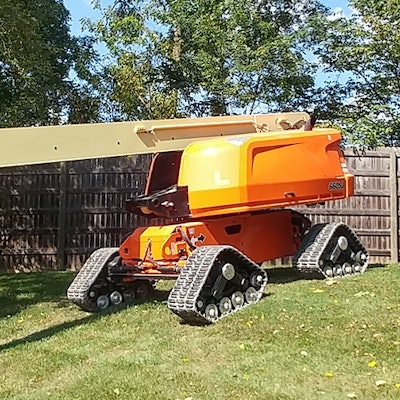 JLG's Quad Tracks are comprised of four triangular rubber-track systems featuring a low-profile design. The company says they were developed to minimize the impact on ride height, track width and driving speed.
Track designs are dependent on two major elements say Gaffney and Smith, the type of machine for which they are developed and the application in which the machine will be used. Fitments for tracks from Camso—a commercial brand of Michelin Group—range in the thousands. Multiple tread and rubber compound qualities are also available. Gaffney and Smith say all of this adds up quickly and emphasizes the importance of versatility for rubber tracks.
"Every user is working unique projects with one common trend, they need a machine capable of getting the job done," say Gaffney and Smith. "One rental company could see a machine on soft soils requiring excellent traction properties while another job may be grading abrasive mixed surfaces for road construction. There are so many variables on a construction site to take into consideration and a versatile solution can often benefit each of those jobs.
"The tracked equipment market has been growing for many years now and we don't see that trend changing," they continue. "We witnessed continued growth in 2020 in the North American construction equipment market despite the global pandemic, carried by strong year-over-year growth from tracked equipment."
Mini track loaders are a segment in which there has been growth aided by their ability to be used in landscaping projects. Increased use of these machines was particularly notable early on during the COVID-19 pandemic because people were home more and therefore spending time on projects such as landscaping. Mini track loaders offer the benefit of moving around yards with minimal disturbance, making them a key tool for landscape projects.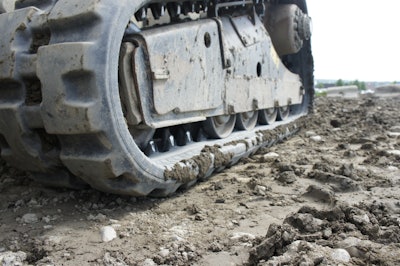 Machine sizes and specifications lead to new design needs
Off-highway equipment is increasing in size, weight and power leading to more load and torque says Sheehey. While this is helping improve efficiency for machine owners in many applications, it can present challenges for tire manufacturers. Sheehey says working closely together with OEMs ensures specs are understood and the appropriate tire is designed.
Gaffney and Smith note the increase in machine sizes as well as other OEM design decisions are impacting not only tracks but also the undercarriage system. They say some large equipment manufacturers are moving away from internal drive systems – which helped popularize compact track loaders (or multi-terrain loaders) – and instead have now adopted external drive Metal Embedded Rubber Track (MERT) systems across their compact loader portfolios. This type of system will be necessary to meet the performance needs of increasingly larger machines. They offer the example of CASE Construction Equipment's newly launched TV620B compact track loader which comes in at 16,000 lbs. (7,257.5 kg) "There is no doubt its tracks require a very robust rubber carcass reinforced by forged steel embeds," say Gaffney and Smith.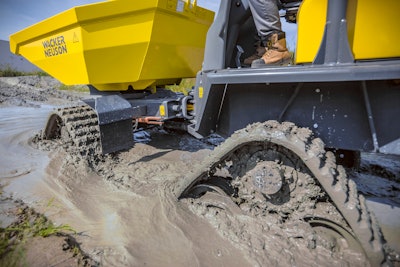 READ MORE: World's Largest Production Compact Track Loader Tips Scales at 16,000-lbs. Operating Weight
Heavier machines are likely to bring about the use of rubber pads in place of rubber tracks, as well say Gaffney and Smith. Rubber pads can be clipped or bolted onto steel tracks or chained directly to the undercarriage without the need for a steel track they explain. "Rubber pads are a technology that have been developing mostly for excavators and the shift is already well underway in European markets. They are great to lower cost per hour of larger equipment working on surfaces where we want minimal ground disturbance."
"Equipment owners are increasingly sophisticated when it comes to tire selection," says Sheehey. Because of this companies like YOHTA are creating tires optimized for specific applications, underfoot surfaces, conditions and haul lengths. "Working with experienced tire dealers, machinery owners can zero in on the tire that will perform best and last as long as possible in the conditions that the machine will face day-in and day-out."
The Alliance 374 R-2 radial is an example of a tire he says the company created specifically to meet the unique needs of rice and cane farmers in muddy fields. Doing so not only ensures performance in the application but also offers optimal TCO benefits.
The right tire choice—whether created specifically for an application or not—will minimize downtime and save on fuel use which leads to improved productivity. "The TCO is going to be as low as possible, and that's ultimately what the customer wants," says Sheehey.
Holub says BKT is seeing requests for new tire sizes to better fit the newer equipment coming into the market. Although size changes are common in agricultural applications, he says that has not been the case as much in OTR (off-the-road). However, that is changing with new size requests coming from agriculture as well as other OTR applications such as construction and mining.
He says BKT is often able to react quickly to these requests for new tire sizes. In some instances, the company can design, mold, test and put into the field a new tire within a year which he says is a quick turnaround within the industry.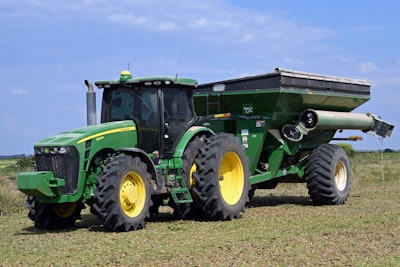 What lies ahead for tire designs?
There are a number of areas in which tire manufacturers will continue to focus their design efforts, as well as new aspects that may come along as heavy equipment designs evolve. Integration of sensors to create smart tires is likely to increase in the coming years.
By integrating sensors into tires, manufacturers can track the entire life of a tire. Manufacturers and their customers can always know where the tire is and how it is performing. Sensors can also help to determine if any issues may arise so equipment fleets can be more proactive about maintenance and avoid unplanned downtime.
Finding a replacement for rubber is also an area of focus for many tire manufacturers. Tires are one of the largest users of rubber which is not a plentiful material. To not only be more sustainable but also reduce the amount of rubber needed for tires, other materials are being investigated such as dandelion rubber. "BKT is constantly looking at better ways to help design the tires," says Holub.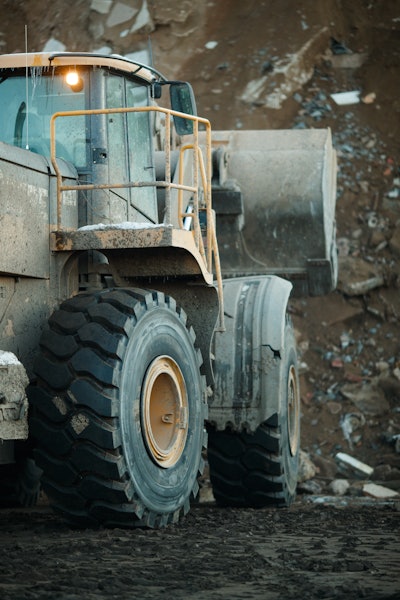 Industry megatrends such as electrification and automation could bring about new requirements for tire designs in the future.
Holub says issues customers experience today, such as tires used on loaders in underground mining rubbing against mine walls, could be exacerbated by the implementation of autonomy because the equipment will be utilized more frequently. This could lead to the need for more reinforcement of tire sidewalls.
Though electrification and automation are growing in the off-highway equipment space, Holub says it has not yet brought about any demand for new tread designs or other features. He says BKT is continuously designing which will help the company to meet both current and future customer needs.
According to Sheehey, electric powered equipment is heavier than its diesel counterparts which tire manufacturers will need to keep in mind as they develop tires and electric equipment increases in the market. "Electric motors also deliver a lot of torque—and deliver it instantly—so a tire's bead has to have outstanding grip and the sidewalls have to be reinforced to avoid excess deformation when that axle jumps into action."
Considering vibration and road noise will become even more important as well because of the quieter operation of electric equipment. Tread design and compound can greatly impact noise and vibration, he says, making it necessary for manufacturers to focus on these areas when developing tires to ensure operator comfort.
Read more: The Impact of Autonomous and Electric Vehicles on Tire Designs
Gaffney and Smith say some electric equipment applications may require tracks to have thicker rubber carcasses and more surface contact as well as an adjustment to the lug-to-void ratios. Overall, they don't foresee electrification and automation impacting rubber tracks' performance or longevity.
"The biggest requirement of electrification is reduced power consumption of components (including tracks), since the energy source is limited by battery capabilities. For rubber tracks, this means reduced rolling resistance becomes a key focus and we have some tools in our toolbelt to address this."
"I think we will continue to see advances in compound chemistry, tread design, bead engineering and sidewall construction that will keep improving performance, whether it's better traction, longer tire life, the ability to handle more torque, or reduced vibration. There will continue to be improvements on the manufacturing end that will allow us to keep prices to a minimum," concludes Sheehey.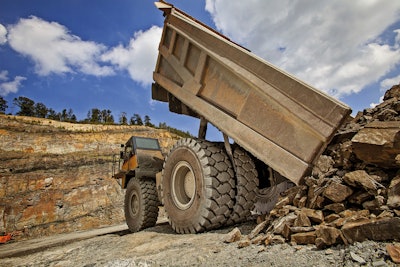 Companies in this article