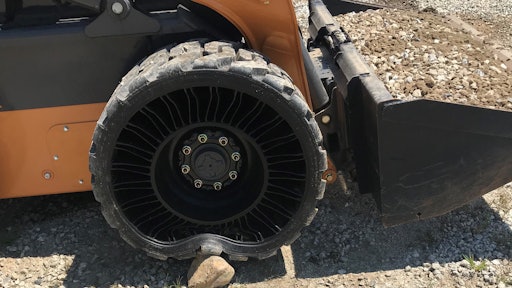 Michelin
According to a recent study from market research firm Global Market Insights, a multitude of cost- and characteristic-based advantages is anticipated to induce growth for the airless tire industry in the coming years with a disruption of sorts in the product and competitive landscape. In terms of market size, the fraternity is expected to surpass 139 thousand units by 2024.
READ MORE: Improve Uptime with Airless Tires
A critical factor promoting the proliferation of the airless tires industry is the stimulated production of military and heavy commercial vehicles in the Asia Pacific (APAC) region. In fact, APAC is estimated to account for over 34% of the global airless tire industry share by 2024. Not to mention, the region's dominance in the airless tire market is also prominently backed by the rapid urbanization trends across the emerging economies such as India and China.
Non-pneumatic tires are now commonly seen in the replacement market and sold for lawnmowers, backhoes and other utility vehicles. The pioneer in airless tires for utility vehicles, Michelin, has launched the Michelin X Tweel UTV 26x9N14 airless radial tire for use in vehicles like the Polaris Ranger, Kawasaki Mule and other UTVs that are exposed to jagged terrains and hostile elements.
These tires enable continuous mobility during long journeys or in remote areas and ensure supreme traction with the surface. Micheline has been developing the X Tweel range for years now and expects to make non-pneumatic tires for cars and two wheelers in the near future. Goodyear Tire & Rubber Co. has also recently released a non-pneumatic tire which is used as a replacement in lawnmowers.
According to The International Organization of Motor Vehicle Manufacturers, around 24 million commercial vehicles were produced in 2017 alone. Increased rate of infrastructure development will boost the production of HCVs and LCVs that need to counter rugged surfaces and heavy loads on a regular basis, giving impetus to the airless tires market.
Military vehicles are expected to add to a significant demand for airless tire, primarily in the U.S., which is indeed a prominent hub for the industry giants. All in all, with a highly innovative product pipeline, the commercialization potential of airless tire market can be quoted as humongous. In terms of global renumeration portfolio, the worldwide airless tires industry is anticipated to surpass USD 200 million by 2024.