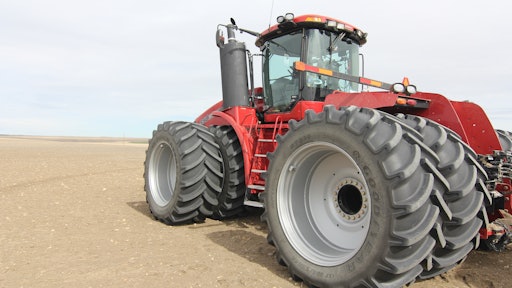 Titan International (Titan) announces that CNH International has expanded its Low Sidewall Technology (LSW) tire offerings in its Case IH and New Holland Agriculture brands.
Case IH is now offering Goodyear Super Singles with LSW technology on its Magnum Series tractors. The Goodyear LSW1000/40R32 fronts and LSW1100/45R46 rears setup is available direct from the factory to be equipped on MFWD tractors.
Case IH is the latest equipment manufacturer to adopt Super Singles, following New Holland's decision last year to offer Super Singles on its T8 line as an alternative to conventional dual setups. The decision largely stems from a customer's planting trial in 2016 that showed a 5-bushel-per-acre advantage with Super Singles versus factory duals.
"We're seeing a trend of OEMs adopting LSW tires as the technology proves itself in the field and interest from growers increases," says Scott Sloan, Agricultural Product Manager for Titan and Goodyear Farm Tires. "Because more and more growers are reconsidering their tire setups, OEMs like Case IH and New Holland are proactively trying to meeting their customers' needs."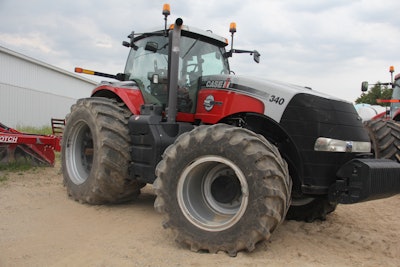 The Super Single setup that Case IH has adopted for its Magnum Series line allows for running at significantly lower inflation pressures, reducing soil compaction compared with standard duals and increasing yield. The setup also increases the contact area by nearly 20%, which lowers ground-bearing pressure compared with standard factory setups running dual 420/85R34 fronts and dual 480/80R50 rears. In addition to decreasing soil compaction, power hop and road lope, the reduced overall width of the setup makes for easier roading and sharper turning compared to factory duals.
CNH also now offers the LSW800/55R46 for articulated 4WD tractors direct from the factory, including Case IH Steiger and New Holland T9 Series tractors. The Goodyear OPTITRAC LSW800/55R46 runs in a dual configuration, offering a 13% improvement to footprint and the ability to run up to 40% lower inflation pressures versus a standard 710/70R42 factory dual option.
Companies in this article