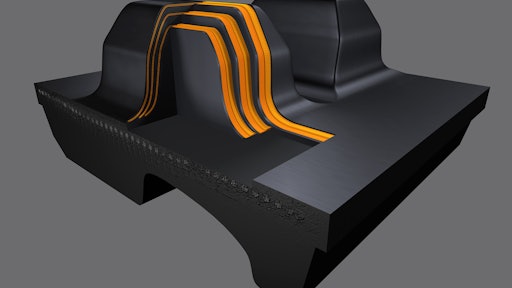 Continental is introducing at the Farm Progress Show, a new, enhanced version of its popular Trackman, called Armorlug Ultra designed to operate on the highest horsepower tractors in the industry.
"One of our goals is to develop tracks that enable the larger implements to take advantage of more horsepower and address the needs of tomorrow, today," says Rob Schultz, Continental's Product Manager for Rubber Tracks. "More horsepower means hauling larger implements. Larger implements mean less time in the field, and less time in the field means happy farmers."
The new Armorlug Ultra incorporates a patented manufacturing process that embeds three fabric layers into the drive lugs, including one that is continuous. "This gives tractors better power transfer enabling farmers to handle the challenges they face," says Schultz. "It's engineered to withstand horsepower not yet available on today's tractors intentionally to address tomorrow's needs. And, in an age of constant pressure to over-deliver, Armorlug Ultra provides a more durable track, delivering up to 30% longer life than any other."
Trackman has pioneered the aftermarket track industry for more than 20 years, holding more patents than any other rubber track manufacturer in the world. From fully molded, one-piece construction to innovations that ensure proven performance in the field, Trackman technology enables users to spend fewer hours in the cab while increasing productivity.