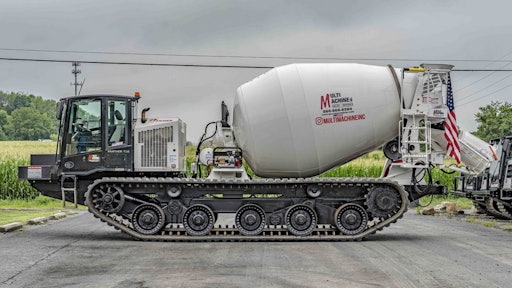 PRINOTH
To meet a growing need for off-road placement of concrete, Multi Machine Inc., the PRINOTH dealer for the Northeast decided to pursue a solution to allow contractors access to projects not previously accessible. The New Jersey-based dealer wanted a solid, reliable solution that would last and create additional opportunities for its customers.
Multi Machine turned to PRINOTH and McNeilus to develop a machine that would meet the desired goals. PRINOTH is a manufacturer of tracked vehicles that can easily be equipped with a multitude of attachments and McNeilus is a leading concrete mixer manufacturer. Engineering teams from both companies collaborated on the project, each adapting their equipment to suit the application and maximize mixer capacities while maintain stability for an off-road application.
"When I heard about the project, I immediately knew I wanted to be involved," says Bryan Datema, senior director of business development of concrete mixers, McNeilus. "I knew this would be a unique project they would enjoy and would allow us to see our mixers more 'off-road' than ever before. We're now ready to build more of these unique vehicles to fill this need in our industry."
Modifying Tracked Carrier
PINOTH developed a special chassis while McNeilus developed a custom mixer body. The PRINOTH PANTHER T16 served as a starting point. This is a 33,500-lb. payload capacity tracked carrier vehicle that typically hauls digger derricks, aerial devices, cranes, drills, and more into the most challenging terrain where ground conditions prohibit the use of a wheeled vehicle.
The PRINOTH PANTHER T16's dropped frame chassis was a key design element to lower the overall height of the off-road rubber tracked mixer. By reducing the overall height, the center of gravity is lower. This results in increased stability and enhances off-road performance. By lowering the overall height, it is also possible to move the off-road mixer from one jobsite to another on a trailer without needing special transportation permits.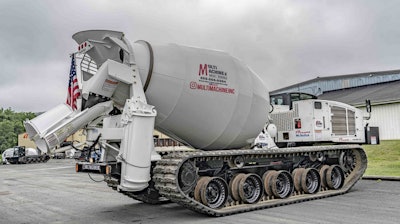 The mixer body was designed by McNeilus to create an easy mounting process to the chassis. The hydraulic components were customized and hydraulic routings where designed to fit the chassis. The end-result is a heavy-duty 9 cu.-yd. custom mixer body that will stand up to the environment in which this vehicle will operate. The drum is designed so that concrete from an on-road mixer truck can be transferred in one shot to avoid waiting time on the jobsite.
"PINROTH's application engineering team was able to use the technology and know-how from the product engineering team to run tests, calculations and design a proper subframe to position the mixer where we could be confident it would be safe, and still be able to handle the uneven and hilly terrain a PANTHER crawler excels in," says Dan Waisempacher, service manager, Multi Machine. "The team at PRINOTH collaborated with the team at McNeilus and we worked together to figure out how many gallons of water and yards of concrete we could safely haul, taking in account the weight of the subframe and water tank."
Off-road Game Changer
This off-road mixer will be a game changer in specific applications. Difficult to access jobsites are often a challenge since concrete is a perishable product once the mixing process begins. This tracked mixer will allow a contractor to quickly and easily move through soft soils and rugged terrain that is almost or entirely inaccessible by a standard vehicle, which saves valuable time. In the past, many of these jobs required a helicopter to haul and/or pour concrete, which is costly compared the off-road mixer solution.
There are several methods for transporting concrete from a batch plant to the off-road mixers. For instance, standard mixer truck can haul the concrete from the batch plant over the roads to the off-road jobsite where it is then transferred to the off-road mixer. This can be done in several ways: using concrete mixer trucks with a conveyor belt, with a stand-lone conveyor, or the most common is to create a platform that places the on-road truck at a higher level and place the PANTHER T16 at a lower level.
Companies in this article