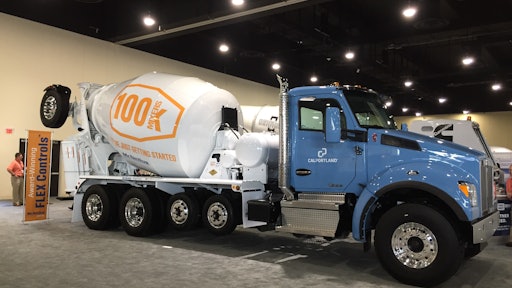 McNeilus Truck and Manufacturing Inc., an Oshkosh Corporation company, is recognizing the manufacture of its 100,000th concrete mixer, making the record-setting machine one of the highlights of its booth at ConcreteWorks 2018, at the Gaylord National Resort & Convention Center, National Harbor, MD.
"This is a tribute to the proud legacy our people have built over more than five decades," says Jesus Crespo, VP and General Manager of McNeilus Concrete Mixers. "From design and engineering to manufacturing and sales, this organization has worked hard to create trucks that lead the industry and deliver solid added value for our customers every day and we're just getting started."
The history-making McNeilus Bridgemaster mixer, which rolled out of the factory on Sept. 21, features all the company's most advanced technologies, including:
Award-winning FLEX Controls. "The brains of the operation," the controls platform offers an unprecedented level of performance and accuracy that allows better, more precise mixing.
Patent-pending Automatic Washout System, which saves operator time by virtually eliminating the need to access the top of the mixer for cleaning.
Collision-avoidance radar-sensing technology from PRECO Electronics.
Street Smart Vision system with three cameras allowing drivers a broader view of their surroundings.
McNeilus M80 Series Drum, which delivers enhanced productivity with an increased capacity and a low mass forward design (LMFD). This patented drum design keeps the mix closer together and moves the center of gravity down, leading to more efficient mixing.
Hydraulic Chute Assist. Our hydraulically operated chute assist is designed to keep the operator away from the foldover action.
GradeMaster technology, which detects when the truck is on an incline and spins the drum faster to keep the mix further forward in the drum, slowing down again when the mixer moves off the incline.  
At the conclusion of the show, the keys to the landmark mixer were turned over to its new owner, CalPortland. The truck will be going to the company's Glacier Northwest location in Washington state.
"We're thrilled to have the 100,000th McNeilus mixer in our fleet," says Steve Mitchell, VP of Asset Services at CalPortland. "It's always a big event when we get a new truck with all the latest equipment and technology. We've been a McNeilus customer for decades and it's an honor to be a part of this monumental production milestone."
In addition to the 100,000th mixer, the McNeilus booth at ConcreteWorks also featured FLEX Controls and an Oshkosh S-Series Front Discharge mixer with Cummins X12 Engine.
A number of chassis partners – including Kenworth, Mack and Navistar International –displayed McNeilus mixers as a part of their ConcreteWorks displays. The truck in the Kenworth booth was purchased in a pre-show auction benefiting the RMC Research and Education foundation, which funds research and educational programs to improve quality, sustainability and professionalism in the ready mixed concrete industry. The mixer was purchased by Concrete Supply Co. of Charlotte, NC.