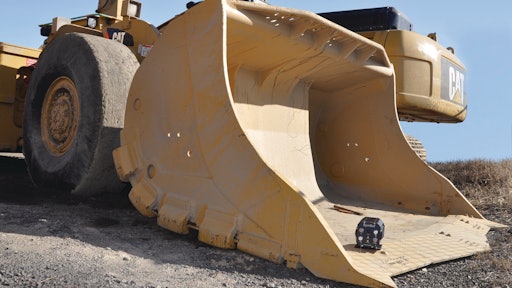 A new device for data management enables the intelligent monitoring of mining equipment and other applications. Packaged in a rugged IP-65 rated enclosure, data collected by Symboticware's SymBot platform is processed and standardized on-board and relayed out for maintenance scheduling, warning alarms or virtually anything else needed by an operator or foreman.
In situations where real-time data collection is critical, the SymBot platform can be used for monitoring engines (using the CAN bus), production, maintenance, emissions and air quality and maintenance. Using the wi-fi-based communication systems that are becoming prevalent in underground mines, SymBot has bi-directionality and remote configuration capabilities, opening up the possiblity for future dispatch systems within an underground environment.
An idea in search of a market
Symboticware Inc. is a 2008 startup located in Sudbury, the heart of Ontario, Canada's hardrock mining production. From the beginning, the firm focused on creating a ruggedized platform that would standardize and manage remote data collected from a number of different systems.
"We took that initial concept and went out into industry to find applications that could build on the platform," says Kirk Petroski, president and CEO, Symboticware. The timing couldn't have been better: In the middle of a deep recession, one of Sudbury's largest mining companies was mired in a long strike. "The company's process automation group was looking for technology to standardize data and increase their efficiency." The firm has become a partner in the development of the technology, helping to define the requirements.
Symboticware has also developed relationships with Sudbury-based OEMs, equipment dealers, and distributor that individually provide equipment information as well as a way to market SymBot.
Symboticware's goal is to get the platform accepted mine-wide. From there, end-users, maintenance, production, and health and safety departments can start building on the platform. For mobile equipment, Petroski feels underground loaders (load-haul-dump, or LHD) make the most sense, followed by drills and utility vehicles. An OEM can sell it as option and program it for a specific machine.
Much like the iPhone, SymBot is a platform onto which specific functions -- apps -- can be easily installed. Customers will not have to discard any business programs that had been used above ground; any software that is unique to the Symbot is contained within the mine-hardened enclosure.
Symboticware has several test units underground now, and anticipates being ready for full commercialization by the first quarter of 2011. Where possible, SymBot is built with MilSpec and extended commercial off-the-shelf components with design, assembly and QA in Sudbury. "The most important part is our supplier relationships -- we know where to source the components when large orders come in," says Petroski.
In addition to the operating system and software, Symboticware has also developed the human-machine interface (HMI), an in-cab touch screen for inputting data. Many mines still use a paper system for the required pre-operation checklist. Using the SymBot, data is standardized and can be sent to the foreman in real time, allowing corrective measures to be made early in the shift.
SymBot supports an industry-wide initiative called IREDES, (International Rock Excavation Data Exchange Standard), which is working to standardize data between mining equipment and office computer systems. SymBot can send information in an IREDES-based format. Through their projects, Symboticware continues to activly advance this industry lead data standard.
Big R&D help
Understanding that good ideas can't succeed if they don't meet an industry need, Symboticware has benefitted from its relationship with the Centre for Excellence in Mining Innovation (CEMI). Located on Sudbury's Laurentian University campus, CEMI's R&D efforts focus on research initiatives that are important to the mining industry.
"We are computer science engineers. The difficulty as a technology company is not having a deep knowledge base in a particular market vertical," says Petroski. "CEMI helps us bridge between the gap in what we are doing and what the industry needs. Having access to the network of mining experts in Sudbury has been invaluable. We see ourselves as the technology enabler, and CEMI helps us bridge from idea to commercialization." It also helps with funding, which is important to any chasm crossing start-up.
Petroski believes large-scale implementation of the SymBot platform will happen in tandem with an organizational change. As local mining firms become part of global giants, such platforms will become the key component in creating standardized data applications for specific operational needs. The SymBot platform enables mass customization, and customer/OEM co-creation, allowing for customized data applications while still taking advantage of economies of scale within a single on-board device.
##
Go to the October issue at www.oemoffhighway.com for an overview of telematics technology.