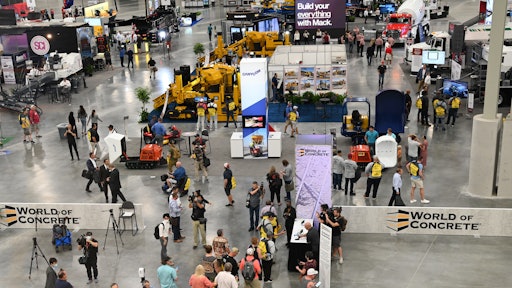 Informa
*Editor's Note: This news was originally published Jan. 18 and updated Jan. 24 with additional information.
World of Concrete (WOC) returns to its usual January timeslot for the 2022 show. The global concrete and masonry construction event takes place January 17-20 in Las Vegas, NV, with education sessions beginning January 17 and the tradeshow opening on January 18.
This annual trade show is known for its many technology and equipment launches aimed at helping those in the concrete and masonry construction industry get work done in a productive and efficient manner.
A post-show report from WOC organizer Informa Markets says the show concluded with 37,000 total registered attendees. It states there was consistent foot traffic in the expo halls, high engagement during educational sessions and an overall sense of positivity for a return of in-person events. WOC covered 632,000 NSF of the Las Vegas Convention Center with over 1,100 exhibitors.
Following are news highlights from this year's show, with information from press releases provided by the companies noted.
Doosan introduces new construction equipment
Doosan Infracore North America introduced several new pieces of construction equipment during the show.
The new Doosan DX50Z-7 mini excavator is part of the 5-metric-ton size class. Its Zero-Tail Swing design makes it a popular choice for customers working in confined spaces on construction jobsites or landscaping projects.
Key Specs of the machine include:
Power rating: 48.8 hp

Operating weight: 12,121 lb.

Maximum digging depth: 11 ft. 5 in.

Maximum digging reach (ground): 19 ft.

Maximum loading height: 12 ft. 6 in.
The new DX140LCR-7 excavator features upgraded technologies and enhanced controls and comfort. The 14-metric-ton, reduced-tail-swing DX140LCR-7 comes with enhanced swing performance, increased fuel efficiency and more operator comfort features than the previous iteration.
Key specs for the excavator include:
Power rating: 115 hp

Operating weight: 35,424 lb.

Maximum digging depth: 19 ft. 8 in.

Maximum digging reach (ground): 28 ft.

Maximum loading height: 23 ft. 3 in.
The DL250-7 wheel loader has smart technologies to amplify the operator's ability to scoop, carry and load more material — while maximizing power and efficiency. Exceptional lift heights and generous bucket capacities help operators power through the heaviest loads.
Key specs for the wheel loader include:
Power rating: 172 hp

Operating weight: 30,528 lb.

Bucket capacity, heaped: 3.3 cu. yd.

Static tipping load, full turn: 21,134 lb.

Dump height, 45 degrees: 9 ft. 2 in.

Dump reach, 45 degrees: 3 ft. 6 in.
Liebherr showcases new THP 80-LP Truck mounted concrete city pump
Liebherr USA, Co. Concrete Technology has launched the THP 80-LP truck mounted concrete city pump, a compact and powerful pump designed specifically for the North American market. It is the smallest pump in the truck mounted concrete pump product line. It maintains the same high performance, quality, and offers many of the same features as the larger truck mounted concrete pumps. It is the perfect solution for jobs in urban environments, residential jobs and compact job sites where space is limited.
Liebherr's new city pump fulfils an industry need for a reliable and flexible boomless pump truck for line pumping applications. The design and development of the THP80-LP city pump is a result of customer feedback and Liebherr's many years of engineering and production. The City pump is the smallest in Liebherr's line of concrete truck mounted pumps. It maintains many of the same features as the larger heavy weight truck mounted boom pumps, such as a 600 liter large capacity hopper.
Compact construction, lower weight
The THP 80-LP offers greater flexibility and mobility for operators to move around the job site. The total length of the new Liebherr city pump is around 28.4 ft. It is quick to set up and easy to control with an HBC option for the remote control. The truck features ample storage with wide spaces for the concrete tubes and accessories on the deck and plastic water tanks for saving weight.
The THP 80-LP is mounted on a two axle truck chassis flatbed chassis and weighs around 22,684 lbs. which is significantly lighter than the truck mounted boom pumps. This is convenient for customers because it does not require a CDL to operate, which means there is more flexibility and allows more of their staff to operate the equipment.
High Performance
The pumping kit features an open loop hydraulic circuit that is the simple, reliable and powerful. This system is in line with the same quality and performance the boom pump models offer, it provides top performance with very low maintenance costs. Liebherr pump kits are robust, low stroking, low wear and easy to switch parts. The Liebherr city pump is designed to deliver high pumping performance. The suction inlet has a greater diameter than the cylinder itself, ensuring outstanding suction performance, even on extreme concrete types. With the split wear plates maintenance can be done quickly and easily. In addition, Liebherr offers a pumping kit option that allows high pressure application for extreme tasks. Operators can easily switch the hydraulic hoses on the pumping kit, allowing the machine to provide higher pressure on the concrete. This pump provides the standard hydraulic mounting with concrete pressure at cylinder rod side is 1,088 psi (75 bar), when switching connection, the concrete pressure at cylinder piston side is 1,813 psi (125 bar).
Concrete Technology Solutions
The new THP 80-LP is the latest addition to the rapidly expanding product portfolio of Liebherr truck mounted concrete pumps. The Liebherr Concrete Technology division provides a diverse range of concrete technology solutions, including the development and manufacturing of high-quality truck mixers, mixing plants and concrete pumps. The range is complemented by additional concrete products, including conveyor belts for truck mixers and plant control systems. Together these products are designed for cost-effective, trouble-free mixing, transportation and installation of concrete.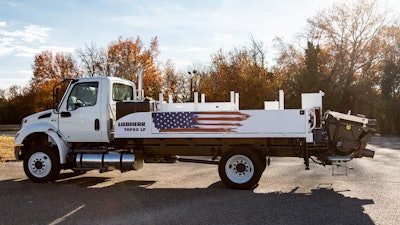 Kubota Introduces U10-5, K008-5 Compact Excavators
Kubota Tractor Corporation announced two new additions to its excavator lineup – the K008-5 conventional tail swing excavator and the all-new U10-5 minimal tail swing excavator.
These new construction product announcements lead the company's 2022 product rollouts, and while the K008-5 will replace the -3 model with various upgrades, the U10-5 takes an all-new, in-demand spot in the U Series minimal tail swing lineup.
"Our new excavators are ideal for tight, confined spaces and with the U10-5 being a minimal tail swing model and both excavators featuring retractable tracks, they are ready to work in even the narrowest spaces on the job site," says Patrick Baker, Kubota construction equipment product manager. "With the new K008-5 and U10-5, we now have a broad offering of 13 compact excavator models across the 1-to-8-ton weight classes, and now feature more flexibility among the conventional and minimal tail swing lines. All of our -5 generation models are solidly engineered and outfitted with more customization to keep customers working efficiently and comfortably."
Refined, Never Confined
The K008-5 and U10-5 offer easy, single-level maneuverability with hydraulic adjustable track widths that quickly contract to fit through tight spaces easily – think doorways, fence gates, inside buildings, hallways, elevators and more.
On the K008-5, the tracks adjust down to 2 ft. 4 in. and the U10-5 contracts to 2 ft. 6 in., then when the operator wants to widen the tracks, the tracks widen out to 2 ft. 10 in. and 3 ft. 3 in., respectively.
"The U10-5 is Kubota's answer to the rental or professional customer, for example, who requires a compact excavator in the 0–1-ton range, but in a more compact frame with minimal tail swing to be more nimble and agile than ever before for both residential and commercial work," Baker added. "The U10-5 provides superior flexibility when working in tight spaces with very minimal overhang at 0.6 of an inch over the tracks, ensuring excellent balance, stability, and fast operation. It truly is the ideal model for working in compact spaces."
A Lean, Mean Digging Machine
Each new compact excavator features surprisingly wide working and digging ranges for their compact frames.
The K008-5 has a working range that includes a digging depth of 5 ft. 8 in. and a bucket breakout force of 2,205 lbs. The U10-5 extends to a 5 ft. 11 in. digging depth with a bucket breakout force of 2,337 lbs. What's more, the U10-5's hydraulic control system offers smooth operation and an increase in digging productivity.
The U10-5 also offers the same side lever joystick operational controls found on the other larger Kubota excavator offerings, with consistent joystick digging controls.
Both models offer clean, hose-free boom lines because the hydraulic hoses are uniquely hidden and protected inside the boom leading to less excavator downtime. Additional features on the new models include:
Heavier Frame for More Solid Positioning: Kubota has added weight to both new excavator models for more solid positioning in the operator station. The K008-5 sits at 2,315 lbs., while the U10-5 has a heavier frame at 2,646 lbs.
Travel Speed: The engine gross horsepower for both the K008-5 and U10-5 comes in at 10.3 hp offering travel speed at 2.5 mph.
Easy Operation: Both new models are two-speed excavators. The two-speed travel pedal allows the operator to easily switch between high and low gear.
Two Pattern Control: Both models feature both ISO & SAE operational patterns which are easily changeable to the operator's preference.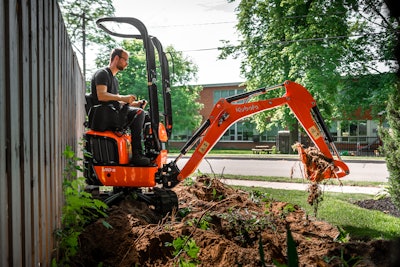 Mack Trucks featuring two Granite construction models
Mack Trucks will feature two of its Mack Granite model construction trucks at World of Concrete 2022.
Known as the workhorse of the company's vehicle lineup, the Granite model handles difficult worksite applications, all while offering maximum driver comfort, power, durability and reliability. "The Granite features the durability and power to manage the demands of working in the toughest of applications, such as the concrete segment of the industry," said Tim Wrinkle, Mack Trucks construction product manager.
Mack trucks featured in booth No. W-1826 in the Las Vegas Convention Center include:
Granite Axle Back Concrete Mixer
Engine: Mack MP7-425M, 425 hp and 1,560 lb.-ft. torque
Features: Mack FXL20 20,000-lb. front axle; ClearTech One exhaust aftertreatment system; Powerleash engine brake; Road Stability and GuardDog Connect integrated telematics solution
Body: Con-Tech Extreme Duty Manufacturing mixer
Granite Axle Back Concrete Pumper
Engine: Mack MP7-425M, 425 hp and 1,560 lb.-ft. torque
Features: Mack FXL20 20,000-lb. front axle; S440 44,000-lb. rear axle; ClearTech One exhaust aftertreatment system; Camelback SS44 44,000-lb. rear suspension; GuardDog Connect integrated telematics solution; and Air high-back driver seat
Body: Putzmeister 39Z-m truck-mounted concrete boom pump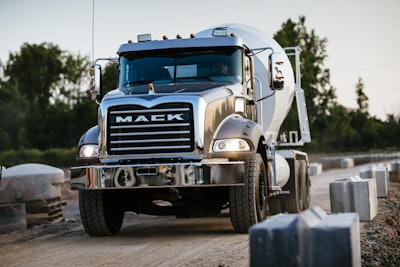 LiuGong North America to Feature New Products
LiuGong North America will continue its presence at key industry trade shows in 2022 to highlight its range of new products coming to the North American market. Throughout 2022, it anticipates bringing more than 20 new products to the U.S. across several business units.
At World of Concrete 2022, LiuGong North America will showcase its quarrying and aggregate equipment and feature its 856H Stage V, 890H, 913FCR and 922F machines. These products will fully enter the North American market later this year.
"These machines showcase LiuGong North America's commitment to the quarrying, aggregate and mining segments," said Chris Saucedo, Senior Vice President, Strategy & Customer Solutions. "The World of Concrete show is a great place to highlight these machines and kick off 2022 with our line of new products coming to market for our customer base."
The 856H Stage V wheel loader is the fifth-generation product in the 856 line. Weighing in at just over 41,000 lbs., it features a Cummins EU Stage V-approved, 6.7-liter (1.8 gal.), six-cylinder, straight turbocharged diesel engine that has a maximum output of 245 hp.
The 890H large wheel loader will be outside in a static display at the show. At just over 68,500 lbs., it features the latest fuel-efficient Cummins engine, has a net power rating of 262 kW (351 hp) at 1,800 rpm and fully complies with EPA Tier 4 Final emission standards without compromising on power or performance.
New to the North American market later this year will be the 913FCR and 922F excavators. The 913FCR falls in between the 909 and 915 midi-excavator range, while the 922F is slightly bigger than the 915 midi-excavator and a bit smaller than the large excavator line.
Individual details about each product will be revealed later this year.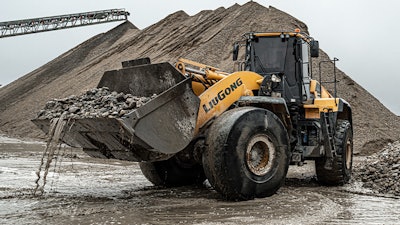 Honda exhibiting Autonomous Work Vehicle
Honda plans to exhibit its Autonomous Work Vehicle (AWV) which recently underwent testing on a construction site.
The Honda AWV employs a suite of sensors to operate autonomously, using GPS for location, radar and lidar for obstacle detection and stereoscopic 3D cameras for remote monitoring. The ability to operate autonomously – or via remote control – and carry large payloads, along with the potential to add attachments and tools, makes the Honda AWV a suitable platform for many work environments.
Briggs & Stratton exhibits engines and battery technology
Briggs & Stratton will provide attendees the opportunity to see the current lineup of Vanguard power solutions. Highlights at the Vanguard booth (#030648) include the 1.5 kWh swappable battery technology, as well the new single-cylinder Vanguard 400 engine equipped with electronic fuel injection (EFI) and electronic throttle control (ETC). Also available for viewing will be the Vanguard Commercial Lithium-Ion Battery Packs and the full lineup of single-cylinder horizontal shaft engines.
The new single-cylinder Vanguard 400 EFI/ETC 14.0 gross hp engine is launching in March 2022, but World of Concrete attendees will get an early preview of the engine and its many features. This is the latest Vanguard model to incorporate EFI and ETC technology, which improves performance and load acceptance as well as offers better fuel efficiency and easy all-weather choke-less starting.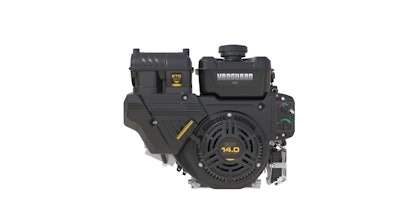 The Vanguard lineup of single-cylinder horizontal shaft commercial engines will also be on display, which includes the Vanguard 400, a 14.0 gross hp engine, Vanguard 200, a 6.5 gross hp engine and Vanguard 160, a 5.0 gross hp engine. This family of engines, designed using customer research, provides proven power with superior starting and significantly less maintenance. These models also feature the patented, Vanguard-exclusive, TransportGuard technology and fully integrated cyclonic air cleaner with advanced AutoShed technology.
Along with the 400 EFI/ETC engine, visitors can see the Vanguard Lithium-Ion 1.5 kWh Swappable Battery Pack on display. The battery is designed to provide users with an efficient, versatile and reliable battery power option. The battery features an exchangeable design, allowing customers to easily remove and replace the battery as needed and like the currently available Vanguard Lithium-Ion Battery Packs, the swappable battery can be used in tandem with other packs to make sure larger power needs can be met. Those attending the World of Concrete show will also be able to see the current Vanguard Lithium-Ion battery pack lineup, including the 3.8 kWh, 5 kWh and 10 kWh models.
"Electrification is quickly revolutionizing the power application industry and we're proud to play a significant role in that process," said Amy West, Briggs & Stratton marketing manager, commercial power. "Innovation in power application is more important than ever, and our current Lithium-Ion battery models, as well as our new swappable battery pack, continue to show the industry that Vanguard is leading the industry forward."
Attendees who stop by the Vanguard booth will have the chance to see a variety of products that demonstrate the many applications and markets that are being electrified by Vanguard battery solutions. The following will be on display at the show:
Powered by Swappable battery technology:
Powered by Roll Cage battery technology:
Scag Zero Turn Riding Mower with 5 kWh battery

Allmand GR-Series Light Tower with 10 kWh battery

Allen Engineering Buggy with 5 kWh battery
Powered by Vanguard Die-Cast battery technology:
Club Car Golf Cart with 3.8 kWh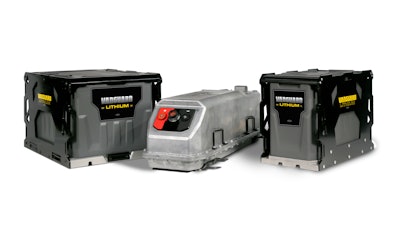 Peterbilt highlighting concrete lineup
Peterbilt Motors Co. will display a range of vehicles for the concrete industry. These include three customer Peterbilt Model 567s with mixer bodies from Beck, ConTech and McNeilus. Also on display is a Model 520 with a Concrete pumper from Alliance.
The Models 567 and 520 feature the newest in technologic advancements with best-in-class digital displays connected to the very latest safety systems. The trucks on display are powered by PACCAR MX-11 and MX-13 engines with class-leading performance, reliability, and fuel economy.
"As the versatile workhouse of the concrete industry, Peterbilt's Model 567 is more than up to the challenge of tackling the toughest vocational jobs," said Jake White, Peterbilt's Director of Product Marketing. "The Model 567 and Model 520 have earned their well-deserved reputations as the most rugged, reliable and technologically advanced vehicles in their class."
Holcombe Mixers to Launch Next-generation G2 Volumetric Concrete Mixer
Holcombe Mixers, a global provider of volumetric concrete mixers and strategic solutions for the concrete industry, will showcase the company's next-generation mobile mixer, the G2 at Booth W3553. The G2 enables customers to produce fresh concrete on demand on the jobsite.
The G2 offers advanced features to simplify mixer operations. "The all-new Holcombe G2 is breaking boundaries with the first-ever moisture control system with dynamic calibration, plus a cement speed responsive gate optimization aggregate system," said Brent Holcombe, managing partner, Holcombe Mixers. "These next-generation technologies coupled with premium features, including belt changes in under four hours, take this mixer to another level, including a class-leading digital touchscreen to keep operations automated."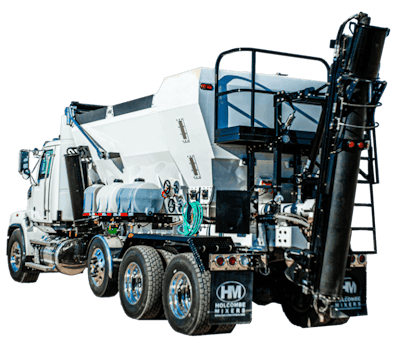 New features include:
Intellicrete Control System keeps admixtures and additives consistently in sync with the concrete production rate, yielding enhanced concrete quality. It is equipped with onscreen calibration and mix design programming in addition to a pre-pour checklist to verify mix accuracy and promote safety.
WaterSmart Moisture Control System controls concrete slump using dynamic calibration flow control with an electronic proportional water valve.
InsightFlow Cement Feed enables precision cement feed control, optimizing aggregate gate positioning to provide reliable and consistent aggregate brick strike-off and dispensing.
Load Sensing Variable Displacement Hydraulic System reduces system temperature and extends the life of components.
Modular Cassette Conveyor System is easily removable and its engineered roller chain enables belt changes in under 4 hours.
Standard features of the G2 include:
7-in. PLC color touchscreen
CANbus joystick auger and chute controls
CANbus button and redundant on-screen control of PTO, rpm and all mix functions
Electric roll tarp for aggregates
Electric vibrators on the aggregate and cement bins
One (1) low and two (2) high-flow admixture systems
Wireless remote
Options available include fiber and color dispensers, a 360-degree swivel chute and a pneumatic cement fill bin with venting system.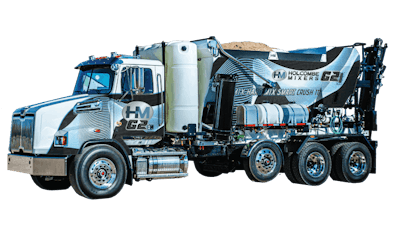 Con-Tech Mfg. Donates Extreme Duty Concrete Mixer for CIM Auction
The Concrete Industry Management (CIM) program – a business intensive program that awards students with a 4-year Bachelor of Science degree in Concrete Industry Management – announces the donation of an Extreme Duty 10.5-yd. High-Performance mixer for the annual auction at World of Concrete.
"We are pleased to have this outstanding donation from Con-Tech Manufacturing," said Ben Robuck, CIM Auction Committee Chair. "This mixer will go a long way to help us achieve our fundraising goal. We are proud to have Con-Tech included in our list of major CIM auction donors and, with this donation, we have the potential for our greatest auction ever."
The annual auction will be held Wednesday, Jan. 19 in the West Hall Room W106 of the Las Vegas Convention Center. The silent auction will be held from 11 a.m. to 12:45 p.m. and the live auction begins at 1 p.m.
Features of the Extreme Duty 10.5-yard Set Back Mixer's Equipment
Drum
1/4 AR steel drum shell with 1/4-in. AR 200 formed head with AR reinforcing plate and head fin reinforcing plates
Single bolt-on access hatch
1/4 fins with 5/16 AR mixing fins, AR steel doubled fin lip
Machined, solid roller track adds superior strength; eliminates cracked tracks and welds
46-in. discharge opening with bolt-on anti-surge fins
Drive
High-performance PMP planetary drive with peak torque rating of 52,000 ft.-lb.
Backed by PMP 5 year/8,000 hour limited warranty
Hydrostatic Drive
Eaton RE heavy duty 54 series variable displacement pump with manual override

Eaton

heavy duty motor with 10 micron filter
Limited 5-year warranty
13-gal. oil reservoir provides greater heat rejection and better thermal protection
Chute Hoist
Double-acting (power up/ power down) 2.5-inch diameter chute lift cylinder to improve operator efficiency and cushion chute bounce during road travel.
Con-Tech chute lift block uses

Eaton

valves with field proven environmentally sealed Deutsch connectors.
Chutes
Fully welded and capped main, fold over, and (3) 48" extension chutes come standard
Main chute mounting uses solid thru shaft with larger bushings for improved wear life.
Controls & Revolution Counter
In-cab control box with drum counter and drum rotation controls
Rear mixer controls are cable with a one-piece cast aluminum control box and toggle switches
View more features of the machine on our sister site ForConstructionPros.com.
Brokk to Highlight
Brokk

Connect 2.0

Brokk will highlight Brokk Connect 2.0 and other solutions at World of Concrete in booth W1305. Initially launched in February 2021, Brokk Connect was previously available in three pilot markets. It is now available to customers throughout Europe and North America.

Brokk Connect 2.0 is the next step in the online platform for connected Brokk robots. This version includes several new features, such as a geofencing function, user customization of the platform and a weekly status report that helps customers to stay up to date on their fleet's status. The solution includes both hardware and software that are unique to meet the specific requirements of the operation and management of demolition robots. To provide the best coverage and always-on operation, the robots are connected over the mobile network.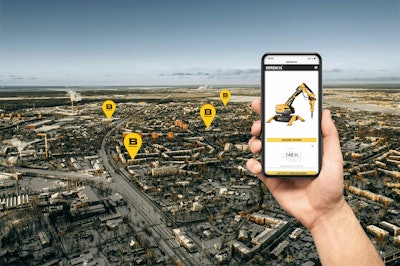 Brokk Connect 2.0 delivers several new features.
"Always-on" geofencing functionality keeps control of your fleet of machines and assists in case of theft or unauthorized use
Customize the online platform based on personal preference
Receive weekly status reports
One of the key benefits is providing access to real-time information about the location of the robot, the status, operational data and any need for attention. The solution also lets owners leverage the data to manage fleet utilization and optimize project planning. Finally, combined with a Brokk Uptime service contract, Brokk will monitor the machines' status, as well as troubleshoot any issues remotely and proactively. Machine uptime is maximized, and the robot is always ready for the next job.
Brokk Connect 2.0 is available on all new Brokk robots but can also be retrofitted on older models. It will be made available worldwide in 2022.
Mack Trucks

& McNeilus Donate to CIM Auction

CIM announces one of the signature items for its annual auction at World of Concrete is a 2022 Mack Granite donated by Mack Trucks and equipped with a McNeilus FLEX Controls Standard Mixer donated by McNeilus.

"As a longtime leader in the construction segment, Mack Trucks is proud to continue our support of the Concrete Industry Management (CIM) program and the valuable teaching and professional development opportunities it provides," says Tim Wrinkle, Mack Construction Product Manager. "Mack is once again donating a Mack Granite model to the CIM auction, which will go toward preparing students in the CIM program for careers in the concrete industry."

"McNeilus is proud to continue our support of the CIM program and invest in future leaders that will advance the industry," comments Robert Monchamp, Vice President and General Manager of McNeilus Mixers and London Machinery. "We believe in this program and its mission," Monchamp added. "At McNeilus, we continue to innovate and invest in technology to help push the industry forward. The CIM program mirrors our commitment to support our ever-changing concrete industry and gives these graduates the skills to excel."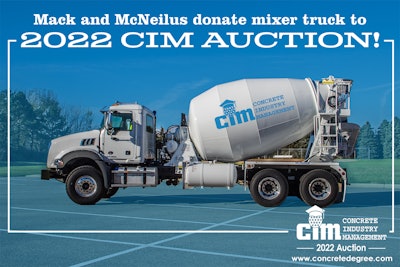 The McNeilus FLEX
Controls

Standard Mixer includes:
10 1/2-cu. yd. M80 Series drum with paver opening
Three FLEX Controls-Enabled Packages: Awareness, GradeMaster and Fuel Saver featuring a new variable displacement pump and motor
Flip-up hopper
PMP PMB 7.1 straight drive Round steel hydraulic tank
Painted to match cab paint
Outfitted with an abundance of operator assurance features, many patented and exclusive to McNeilus
Lightweight aluminum extension chutes
Chute assist for foldover chute for an extra layer of protection for operators
Front and rear roller guards to protect operators from potential pinch hazards
Rear camera
GradeMaster to ensure the load stays forward in the drum on inclines
Two-step bumper with four grab handles for easy access
Ladder dampener for more control and help minimize pinch points
Enhanced lighting package with night pour lights
Split composite water tank 15/135-gal.
Armrest with three-button joystick for operator comfort
Also Included with the mixer
Delivery from Las Vegas to anywhere in lower 48 states
All FET tax paid
Mack extended warranty, 60 months/250,000 miles (Engine Plan 2, exhaust after-treatment system, engine towing)
"Once again Mack Trucks and McNeilus have demonstrated their support for the CIM program," said Ben Robuck, CIM Auction Committee Chairman. "This donation speaks volumes to their commitment to the concrete industry and the importance these leading companies place on the CIM program. This mixer truck will help ensure a successful CIM Auction at the 2022 World of Concrete."
Companies in this article