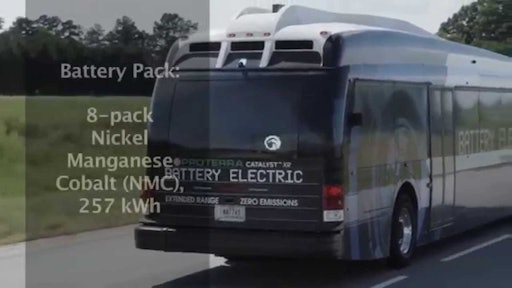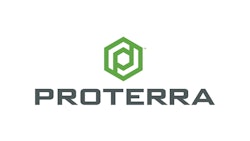 Proterra, the leading provider of zero-emission battery electric buses, announces that the company's 40-foot Catalyst XR bus drove 258 miles on a single charge under test conditions at Michelin's esteemed Laurens Proving Grounds (LPG). The Catalyst's range demonstration marks a significant step toward Proterra's goal of providing a high-performance bus that can serve any typical transit route in the United States.
The Catalyst XR configuration included eight battery packs, with a total energy capacity of 257 kWh. Based on these test results, Proterra predicts its 10 pack XR configuration (321 kWh) will achieve 300 miles on a single charge. According to available General Transit Feed Specification (GTFS) data, typical urban and rural bus routes in the United States run less than 200 miles a day, bringing most routes within reach of Proterra's current technology.
"The purpose-driven Catalyst design affords the best efficiency rating ever for a 40-foot transit bus, at 22 MPG equivalent," says John Sleconich, Chief Engineer at Proterra. "Proterra buses are the only mass transit vehicle built from the ground up as an electric vehicle. With a unique aerodynamic body made from carbon fiber and advanced composite materials, we are able to reduce mass for maximum efficiency."
Beyond meeting a given route's minimum range requirements, Proterra electric vehicles are poised to make a significant impact on the transit market because of the Catalyst's low operational cost per mile compared to diesel, CNG and diesel-hybrid buses. Over the 12-year life of a bus, Proterra customers will dramatically reduce maintenance costs, saving around $135K. The environmental benefits are also making an impressive impact. Collectively, Proterra customers have logged more than 1.3 million miles of revenue service to date, preventing more than 4.7 million pounds of emissions.
"The U.S. is quickly waking up to the economic, environmental, and performance benefits of zero-emission electric buses," says Proterra CEO, Ryan Popple. "While diesel buses pollute our communities and are increasingly more costly to own and operate, Proterra is pushing the bounds of EV technology and steadily driving down costs. Achieving this range is validation for our technology and gives us the confidence that Proterra is capable of what we initially set out to accomplish – replacing every fossil fuel bus in the United States with a fully electric one. "