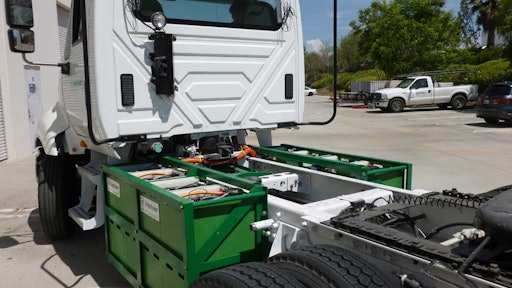 TransPower, an advanced clean energy technology company, announced that its latest electric Class 8 truck, using the Company's "ElecTruck" battery-electric drive system, was on display at the University of California, Riverside (UCR) on May 21. The truck was exhibited as part of UCR's "New Grid Testbed Opening Celebration," a one-day event showcasing various UCR laboratories and technologies related to advancements in electric power delivery and electric transportation.
The truck exhibited at UCR uses a next generation electric drive system designed to meet the demands of drayage trucks operating near ports such as the San Pedro Bay Ports complex, which encompasses the Ports of Los Angeles and Long Beach. New features of this drive system include a dual-motor propulsion unit designed to provide up to 300 kW (400 hp) of peak power, a five-speed automated manual transmission, a unique power conversion and accessory assembly that replaces the truck engine, and a modular 270 kilowatt-hour lithium-ion battery subsystem using proprietary TransPower battery management software.
In what TransPower believes is an important "first" for an electric vehicle of this weight class, the truck was driven nonstop from TransPower's headquarters in Poway to UCR's campus in Riverside, a distance of 88.2 miles. During the inter-city trip, the electric truck climbed some of the steepest grades in Southern California, achieved a top speed of 65 miles per hour, and consumed 1.3 kilowatt-hours of electricity per mile – about a quarter of the cost of using diesel fuel. While the truck was not pulling a trailer on this particular trip, the first TransPower truck of this series has pulled trailers with total vehicle weights of up to 75,000 lbs., and the two trucks have accumulated more than 1,000 miles of test operations since the beginning of this year.
The electric drive system installed into the truck exhibited at UCR uses an International ProStar Class 8 truck manufactured by Navistar. It is the second of eight trucks of this design that will be converted by TransPower by the end of 2014 and placed into drayage service near the L.A./Long Beach ports. Funding for TransPower's electric drayage truck development has been provided by the California Energy Commission, U.S. Department of Energy, South Coast Air Quality Management District, and the Ports of Los Angeles and Long Beach.
Companies in this article