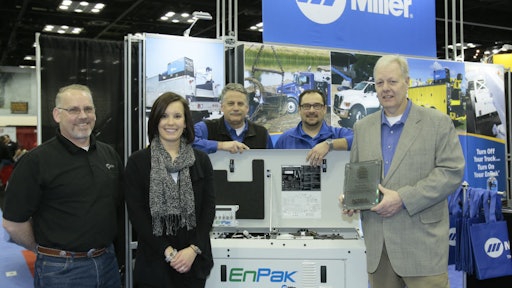 The Work Truck Show 2015 Green Award was presented last week to Miller Electric Mfg. Co. (Appleton, WI) for the company's EnPak power system. Miller received the award at The Work Truck Show 2015, which was held March 4 to 6 at the Indiana Convention Center in Indianapolis, IN.
The Green Award recognizes the product at The Work Truck Show that best enhances work truck fuel utilization, as determined by a panel of truck fleet managers and trade media editors on behalf of the event's producer, NTEA – The Association for the Work Truck Industry.
Miller's EnPak is an integrated power system that includes a rotary screw air compressor, hydraulic pump and generator, all powered by a 24.8 hp diesel engine. EnPak has exclusive systems to monitor user load requirements and adjust engine speed to match, plus auto start/stop technology and the EnVerter power system to efficiently power tools at low engine speeds.
When combined, the EnPak power system's efficiency features can reduce fuel use by up to 30%. The system also remains fully functional when the vehicle is turned off, enabling typical users to cut idle time by up to 50% and extend the life of their vehicles.
"We are honored to be recognized with the Green Award," says Megan Biese, Marketing Specialist for Miller's Power Products Division. "The EnPak system cuts fuel use and emissions, while also reducing wear and tear on the vehicle. At Miller, we develop products that give our end-users confidence when they're on the job, and if we can save them money at the same time, it's a win-win."
The Work Truck Show is North America's largest vocational truck event. It annually brings together more than 11,000 truck fleet managers, manufacturers, distributors, dealers, equipment buyers and maintenance personnel, and features the newest vocational trucks, vans and equipment.


Companies in this article