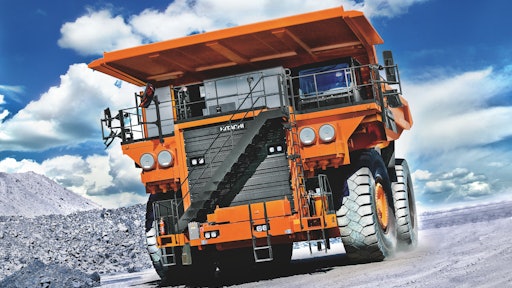 The EH4000AC-3 displayed at the Hitachi Construction Machinery booth at MINExpo INTERNATIONAL this year is the only rigid frame haul truck at the show that features a Hitachi designed, built and supported AC-Drive system – making this system Hitachi to the Core.
Hitachi's Advanced AC-Drive System outperforms previous systems through its simplicity, improved efficiency and enhanced dependability, resulting in some of the most technologically advanced trucks on the market.
"It's perfectly matched for Hitachi trucks," says Craig Lamarque, Division Manager, Hitachi Construction Machinery. "The entire Hitachi AC-Drive system is designed, built and supported by the same company – Hitachi. It's Hitachi to the core. As a result, the system delivers higher torque, faster acceleration, smoother retardation and lower operating costs."
Hitachi has been at the forefront of AC Drive propulsion technology for more than 30 years. Now, the company has channeled this expertise into Hitachi AC-Drive trucks. The system includes Hitachi's own Insulated Gate Bipolar Transistor (IGBT) inverter, alternator and wheel motors.
Key features include:
Slip slide control system - The system's slip/slide control feature acts like both an active traction control and an anti-lock brake system designed for slippery conditions. It reduces tire slippage on acceleration and tire lock-up during braking.
Pitch control system - The pitch control feature of the Advanced AC-Drive System reduces bouncing/rebounding on the truck as it hits bumps or uneven ground on the haul road. As the truck comes to a stop, the rebounding or rocking effect due to the change in inertia of the truck is also reduced. This increases load efficiency and reduces spillage while increasing reliability and durability of the truck.
Side skid control system - The Advanced AC-Drive System also provides a side skid control feature that helps the operator in slippery road conditions when making turns. By utilizing changes in the wheel motor torque from left-to-right during cornering, it assists the operator in turning the truck and keeping it on the proper track in over and under steer conditions.
AC-drive wheel motor - The Hitachi Dual Path Epicyclical Planetary design provides high efficiency and easy maintenance. Operating temperatures are lowered by allowing the first (outer) planetary carrier to travel at wheel speed. In addition, the lifespan of components and lubricants are increased as a result of an inverter controlled lubricant circulation system that includes lubricant cooling and filtration.
"The Hitachi AC-Drive system results in haul trucks that are more valuable assets for mining operations," says Lamarque. "The system delivers better performance, higher uptime and helps reduce maintenance and fuel costs."