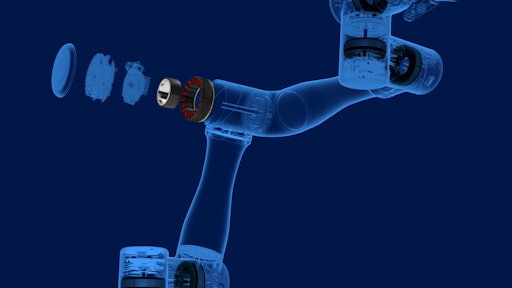 Kollmorgen
Kollmorgen, a manufacturer of motion control systems, announced the new TBM2G series of frameless servo motors. These servo motors introduce features that simplify the design of collaborative, surgical, aerospace and defense, and other robots while delivering optimal performance in a lighter, more compact package. They will complement Kollmorgen's existing TBM and KBM series of frameless motors.
Resulting from several years of research, testing and customer feedback, the TBM2G series offers high-performance torque in a compact electromagnetics package. These motors allow for robots with lower joint weight, higher load-carrying capacity, improved energy efficiency, lower thermal rise, and faster, smoother movements.
Frameless torque motors typically deliver their best performance at low speeds but may suffer at higher speeds. TBM2G motors remove this limitation through their windings and materials that deliver power, torque and efficiency across a wide speed range.
TBM2G motors also remove the sizing limitation that engineers often face when using off-the-shelf strain wave gearing, also known in the robotics market as harmonic gearing. The new TBM2G series motors are sized to fit with readily available strain wave systems, eliminating the need for extensive customizations that can increase engineering time and cost.
The TBM2G series is available in seven frame sizes with three stack lengths each—a total of 21 standard motors that can be integrated directly into robotic joints and similar embedded equipment. Typical applications are collaborative robots in the 3-kg to 15-kg range, powered at 48 VDC and below. These motors are designed to perform at high speeds without exceeding the 80°C limit typically needed to safeguard humans working in proximity to cobots and to prevent degradation of grease and electronic components. They are available with thermal sensor options to meet the requirements of drives and control systems used in the cobot market.
Companies in this article
Request More Information
Fill out the form below to request more information about
Robot-Ready, Frameless Servo Motors