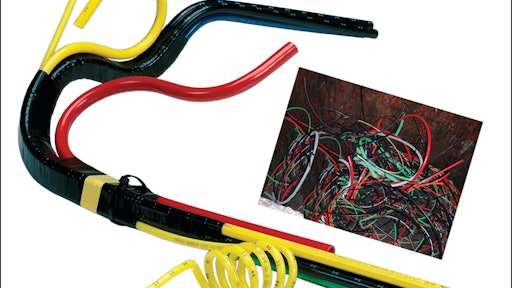 Parker Parflex straight and preformed harnesses of Nylon Air Brake tubing, for tractor, trailer and other mobile air brake applications, can reduce scrap by almost 15%. It isn't uncommon to find OEM's loosing as much as 13% of their air brake tubing; scrapping 2 feet for every 15 foot piece. And with the current shortage of Nylon, 15% could be the difference between your lines staying up or being shut-down. With Parker straight and preformed harnesses, there is no need to cut extra lengths of tubing and trim in the assembly process. They are made to fit your assembly.  
Parker Parflex straight and preformed harnesses also reduce installation times; in some cases, by more than 70%. Time studies show an average chassis harness installation took 4 employees about 40 minutes to complete. However, with a Parflex preformed harness, installation time dropped to 10 minutes and only 1 employee was required to complete the install. In addition, preformed parts allow customers to free up operators who were once cutting and installing to work in other bottleneck areas, thus increasing overall throughput.
Nylon Air Brake tubing is available in sizes 1/8 in. O.D. up to 3/4 in. O.D. and is 100% pressure tested. Maximum working pressure is 150 psi and it operates in temperatures as high as 200 F. In addition, the tubing meets SAE specification J844 Type A or B and SAE J1131 as well as D.O.T. FMVSS106.
For more information, visit the company's website at www.parker.com, or its investor information website at www.phstock.com.
Literature is available upon request.  For more information, please contact:
Janine Kruit
Parker Hannifin Corporation
Parflex Division
Fort Worth, TX  76106
Tel: (817) 984-0135
email:  jekruit@parker.com