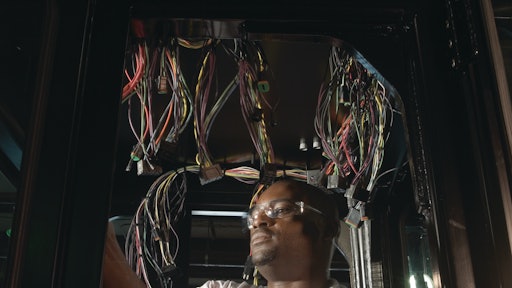 The wire harness is an important, yet possibly overlooked, component of a mobile electrical circuit.
LOFA Industries President Peter Herbrand explains that his company builds its wiring harnesses as a way to help sell integrated packages with LOFA's control panels.
"Our core business is the controls for diesel engines," he explains. "We build the electronics and the wire harnesses which entails the engine wire harness that connects the panel to the engine. If the engine already has a wire harness, we'll adapt to the harness that's already on the engine."
When LOFA first was started in 1989, Herbrand was building the wiring harnesses himself, personally, in order to sell its panels. "We started as a very small company. We now have machines here that cut and strip the wire automatically. Crimps are done by machine, as well. We don't do those by hand unless it's low volume. Using the machine, you're guaranteed an air-tight crimp to prevent moisture from getting in there."
Herbrand is seeing a trend toward waterproof connections. In the past, he says, everything used basic, standard connectors. But since you never know where equipment will be installed and used, connectors had to become more robust and refined.
Other trends in the industry are noted from Russ Wright, corporate account manager, Commercial Vehicle Group, Monona, IA. "The design cycle has decreased around 50% because of technology, as well as the need to bring products to market more quickly." 3D CAD software like Pro/E allows the harness to be designed right the first time, and to be brought to market faster. "Also," he continues, "the development of LED lighting technology has lessened the need for power in most designs and allowed for "power management" controls to be introduced," he says.
"What we find," Herbrand says, "is that a lot of companies don't have the proper equipment to crimp their own wire harnesses. They're doing it by hand, and if you have a bad crimp, moisture gets inside and they'll eventually fail. LOFA uses Deutsch connectors, a brand that Herbrand claims is probably one of the leaders for connectors.
LOFA buys wire by the barrel. The wire is pulled through a machine where it is cut to the programmed length and strips it accordingly. The stripped and cut wire is then brought to the crimping machine where the wire is held up to a wire stop, a button is pushed and it crimps the terminal down onto the wire. The harness itself still has to be connected and routed manually. Many people use wire harnessing boards where the design of the harness is mapped out and it's a basic pattern to follow.
Wires can be tested, as well, while on the boards. Some companies utilize CAD software to design harnesses. LOFA has an engine simulator where the panel is tested along with the wire harness to ensure a functioning package.
To work with a new customer (without access to the piece of equipment) LOFA will send a generic wire harness of approximately 10 ft. of wire. "With that 10-ft. harness, you'll have one side that's terminated to a connector that matches our panel. What they do then is wrap that harness around the engine, put cable ties on it and put the appropriate connectors on by hand. They'll send that harness to us and we'll re-create it," says Herbrand.
He says, "The industry is changing because everything is going to electronic engines. Things are becoming more sophisticated because we are having to deal with CAN bus."
CAN bus
"Early on in the electronic world, cheap connectors were a problem," says Steve Gorseth, engineering manager, TSD Integrated Controls, Minneapolis, MN.
CAN bus has become a common term in the past years, and since a majority of OEMs are now familiar with the system, companies are forced to put a CAN bus and diagnostic port on the vehicle in order to make sure engines are meeting the emissions protocols.
"Many OEMs, in a way, are being forced into a CAN bus system throughout the vehicle, as it is a method of keeping cost down while increasing functionality and efficiency of the machine," he says.
"Using CAN bus, it's not uncommon for an OEM to have two to four CAN busses on the vehicle, depending on the machine."
During the manufacturing process, OEMs can reduce the length and quantity of the wires. Can bus systems generally consist of a power, ground, CAN high, CAN low, and a CAN shield which is typically five wires going between the components to allow an OEM to locate ECUs closer to the functions and send that information back to main controllers or displays.
Reducing the amount and size of the wires brought into the cab minimizes the number of connections going into the cab, which will in turn reduce potential problems with the electronic system. Reducing the amount of contacts in the cab also reduces the complexity of the connectors themselves.
Older analog sensors had long runs of wires, and any noise or interference would affect how that sensor was reading. When the controller is located close to the (now digital) sensor, noise is reduced, and more importantly, digital sensors do not react to the noise.
Wright adds, "[Can bus acceptance] has increased the use of shielded cables and twisted pairs dramatically in [CVG's] harnesses. It has also increased the complexity and need for robust harness design. The longevity of a harness is critical for dependable machine operation."
3D CAD Software
Linius Technologies GmbH, Nittendorf, Germany, developed HarnessExpert software, allowing 3D wiring harness systems to be designed with ease. The software is a stand-alone solution to support common standardized data formats from common and popular electrical and mechanical 3D CAD systems.
"The debut release of HarnessExpert succeeds in achieving our customer's goals of delivering an easy to use 3D wire harness design tool that will greatly reduce design and manufacturing time" reports managing director Werner Heckl.
HarnessExpert provides engineers with a unique 3D design and layout environment. Users can define harness bundle routes and automatically populate these bundles using connectivity data from a schematic diagram. Accurate cable lengths and bundle diameters are assured and using the integrated design-rule-checks possible errors, including bending radius violations, will be trapped. On completion of the 3D design, HarnessExpert will automatically generate a 2D formboard layout in preparation for manufacture.
All manufacturing reports and documentation can be generated. These include a fully populated bill-of-material encompassing every necessary part such as terminals, cavity seals, back shells and cable sleeves.
With HarnessExpert, an engineer can create a virtual 3D prototype model of the complete wiring harness guaranteeing that it fits first time. The harness can be completed in a fraction of the time it would take using traditional methods virtually eliminating human errors.
The company also offers VeSys Electrical Series 2D CAD software to design and analyze electrical schematics and harness manufacturing drawings.
The 2D software features integrated, interactive DC simulation, formboard layout capabilities of non-scaled or full-size harness drawings, and easy report generation.
Recent hurdles
Wright notes recent hurdles for the wire harness industry, with increased awareness in emissions requirements for engines.
"The Tier IV requirements are driving the use of higher operating temperature materials in harnesses — such as completely molded harnesses. Tier IV is also causing an added level of complexity, increasing the wiring because of systems that need to be monitored. Bundle diameters are increasing and customers are reducing insulation diameters to compensate for it.
"In the construction market, wiring is increasing because end users currently do not utilize as sophisticated monitoring systems as in the automotive market because of the hostile operating environment that they work in, but this is changing rapidly.
"We will likely see more wireless control systems in the near future. The key to these will be the shielding of these systems of outside interference."
Manufacturers of wire harnesses include:
Commercial Vehicles Group, www.cvgrp.com
LOFA Industries, www.lofa.net
Unlimited Services, http://us-wire-harness.com
Parker Vansco, www.vansco.ca
Graphics software companies include:
Linius Technologies GmbH, www.linius.de
Mentor Graphics Corp., www.mentor.com
Companies in this article