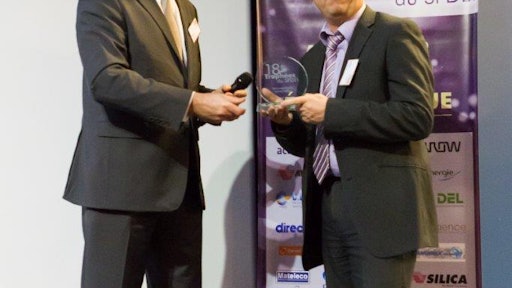 Honeywell Sensing and Control (S&C) announces that distributors of electronic components in France picked Honeywell as the industry's top supplier of electromechanical products in 2013.
The award was presented during the 18th Annual SPDEI Awards ceremony held in Paris on November 26. Members of Syndicat Professionnel de la Distribution en Electronique Industrielle (SPDEI) evaluated suppliers based on several criteria, including quality, delivery, services, innovation and new products, local presence and support, margin, traceability and design.
"This recognition is a confirmation of our relentless focus on quality and delivery and meeting our customers' needs in France and throughout Europe," says Steve Kenny, Director of Sales Distribution for S&C in Europe.
Stephane Mathieu, Honeywell Sensing and Control Director of Sales for South Europe, received the awards on behalf of Honeywell at the ceremony.