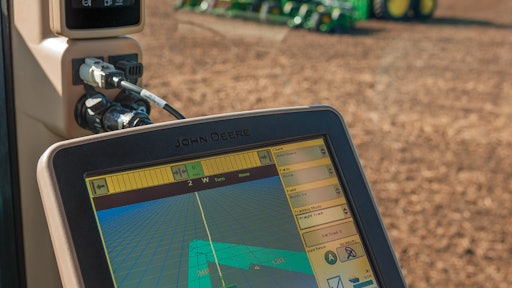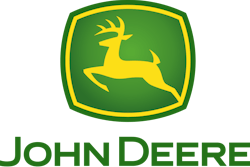 John Deere is expanding the functionality of its Machine Sync application beyond just combine-grain cart harvest automation and logistics for 2015. The new Machine Sync features include coverage map sharing and guidance line sharing that can be useful during seeding and spraying operations, as well as when applying nutrients and during harvest.
These new features make it easy for two machines to operate in the same field while giving each operator immediate access to coverage maps and guidance lines to improve overall efficiency in the field.
"We've taken John Deere Machine Sync to the next level in multi-machine automation and operational logistics," says J.C. Funke with John Deere Intelligent Solutions Group. "We've expanded the original combine harvest automation and logistics functions that facilitate on-the-go harvesting and combine-grain cart synchronization to make the application useful for other field operations."
Funke says one new Machine Sync feature is the ability for machines to share coverage maps while seeding, spraying or applying fertilizer. Section control can now be triggered on or off based on another machine's coverage map, resulting in faster field operations, reduced skips and overlaps, and improved efficiencies when multiple machines are working in the same field.
Another new Machine Sync ability, sharing guidance lines, allows a vehicle to share guidance lines with another machine. Limited to straight tracks only, this feature is useful where two vehicles are working in the same field and need to use AutoTrac on the same guidance lines.
"These enhancements to John Deere Machine Sync will be popular with producers and service providers performing coverage-specific and time-sensitive operations like spraying and seeding in large fields," Funke adds.
In addition to the expanded Machine Sync functionality, John Deere has made enhancements to its GreenStar 3 2630 Display. These enhancements are available to all GreenStar 3 2630 Display customers with the new 15-1 software update. The software update provides up to a 20% improvement in processing speed when using processor-intensive applications and AB Curve shift track that now provides the ability to shift AB Curves radially right or left without line overlap.
Other 2630 Display enhancements include ISOBUS Task Control functionality, which provides section control of ISO implements when used with John Deere Section Control applications, and the ability to import larger prescription shapefiles into the 2630 Display than what previously could be imported.
"The improvements and expanded functionality to Machine Sync and the 2630 Displays are part of our ongoing efforts to provide customers with the latest in precision technology, data management and automation across more field operations," Funke says.