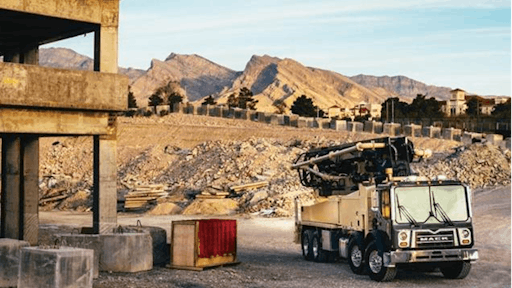 In an effort to simplify service needs for customers in the highly demanding concrete pumper application, Mack Trucks now offers specialized Uptime support. Mack GuardDog Connect, its integrated telematics solution, will be standard on Mack TerraPro concrete pumper models ordered as of April, making it the first such proactive support service available in the trucking industry for pumper applications.
Included in Mack's concrete pumper solution is specialized body builder support, also unique to the industry.
Designed to maximize uptime by streamlining service needs, Mack's concrete pumper support combines the expertise of Mack OneCall, Mack's 24/7 customer support service agents, and technical and dealership experts with specialized body builder knowledge. The result is a simplified network of focused customer support, minimizing potential customer downtime.
"This is just another example of how we at Mack remain committed to Uptime," says Stephen Roy, President of Mack North American Sales and Marketing. "As soon as a critical fault code is detected, the body builder support team is on the case, making the communication proactive, seamless and comprehensive."
Mack GuardDog Connect has been standard on the Mack Pinnacle, Mack Granite and Titan by Mack models since 2013. GuardDog Connect is Mack's proactive diagnostic and repair planning system. It monitors fault codes that could potentially shut down a truck or lead to an unplanned visit to the dealer. GuardDog Connect enables quick diagnosis of issues, proactive scheduling for repairs and confirmation that needed parts are in stock and ready to install, all while the truck is still on the job.
Combined with the support of the Mack OneCall agents, dealership personnel and tech and body builder support, Mack's comprehensive concrete pumper support program is unmatched in the industry. Once an issue is detected, a case is automatically opened in Mack ASIST, Mack's web-based fleet service management platform, the owner or fleet service manager is contacted and the repair planning process begins through a customer-chosen dealer. ASIST ensures timely information sharing, communication and tracking of a service event among the customer, dealer and support staff.
Mack GuardDog Connect for TerraPro concrete pumpers will be available for order in April. For further information, stop by the Mack booth No. C-5203 at World of Concrete 2015 February 3 to 6 at the Las Vegas Convention Center.