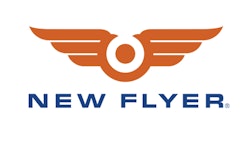 New Flyer of America Inc., a subsidiary of New Flyer Industries Inc., the leading manufacturer of heavy-duty transit buses in North America, announces that the California Energy Commission (CEC) issued the company a Notice of Proposed Award of USD $1.7 million for the development of an advanced fuel cell transit bus.
The CEC's Alternative and Renewable Fuel and Vehicle Technology Program is a competitive grant program that provides funding towards innovative transportation and fuel technologies to help California meet its energy, clean air and climate-change goals. The project will demonstrate the capability of Hydrogenics' hydrogen fuel cell system in a New Flyer Xcelsior zero-emission heavy-duty transit bus
powered by a Siemens ELFA drive system.
This creative approach to extending bus range will help reduce greenhouse gases by removing up to an estimated 115 metric tonnes of carbon dioxide per year and assist petroleum conservation by eliminating the need for approximately 12,000 gallons of diesel fuel. In addition to the electricity created from the fuel cell, New Flyer's zero-emission bus batteries store electricity recovered during vehicle braking.
"New Flyer's integration of Hyrdogenics' leading edge hydrogen fuel cell technology into an Xcelsior 40-foot heavy-duty transit bus eliminates the need for off-board electrical charging system," says Paul Soubry, New Flyer's President and Chief Executive Officer. "This is yet another key milestone in New Flyer's environmentally conscious approach to bus design, improvement in reliability and overall life cycle cost reduction."
SunLineTransit Agency of Thousand Palms, CA, will operate the New Flyer Xcelsior bus in Coachella Valley, CA. SunLine is an internationally respected leader and advocate of clean fuels and clean energy, and opened the world's first hydrogen generation, storage and dispensing facility built by a transit agency.