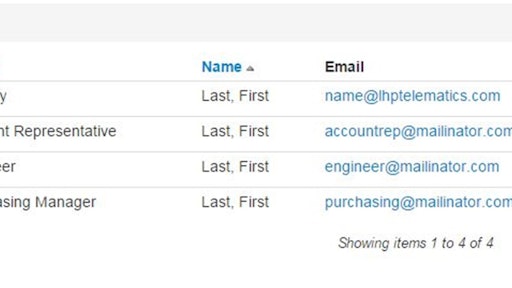 LHP Telematics has released the newest version of the Equipment Intelligence web portal, version 1.1.1.241. This release includes a new Contact System, Feature Packages, the ability to add an admin user when creating a new Customer account, and an overhaul of the Maintenance system.
The Contact system allows users to set up the different contacts for their company account. The system includes Account Representative, Primary, Sales Representative, Service Representative, and Support contact types, but users can also add their own contact types. The Contact System allows users to see contact information for different users in the company account.
The Feature Packages system has also been added as a replacement for Application Packages. Admin users can turn different features of the web portal on and off for their sub-customer accounts. The Feature Packages can be edited and customized based on the customer account it is being applied to.
Version 1.1.1.241 also introduces the ability to add an Admin user account when creating a new Customer account. This keeps users from having to create the Customer account and then manage the Customer to add the first Admin user.
Finally, Equipment Intelligence version 1.1.1.241 includes a major update to the Maintenance system. Maintenance Plans are now accessed through Equipment Models and Asset Types. Maintenance Items have also been added, and act as steps to be completed in a Maintenance Plan. For example, Maintenance Items such as "Check Oil" and "Change Oil Filter" can be added to a "Change Oil" Maintenance Plan. The Asset Performance Report also includes an option to Log Maintenance. This option can be used when non-scheduled maintenance has occurred and needs to be logged in the system.