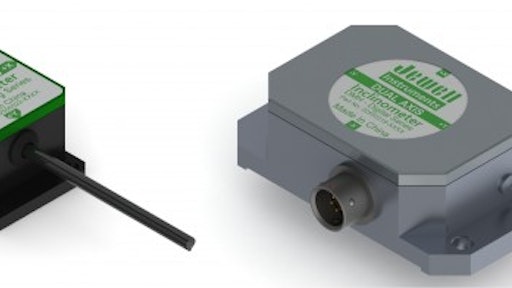 Jewell Instruments introduces nine new families of low-cost MEMS (Micro Electro-Mechanical Systems) inclinometers. They are the latest additions to Jewell's quality line of high performance electronic tilt meters.
Models span from 0.01 degrees to temperature compensated 0.0008 degree resolution, allowing customers to match price to performance across a broad range of applications. These low-cost sensors utilize chip-based technology, consisting of a suspended mass between two capacitive plates, to cover up to +/-90 degree full range output. Dual and single axis models are available with analog voltage or current outputs as well as RS232, RS422, RS485 and CANbus outputs.
"This is a major expansion of our MEMS technology product offerings," says Bill Bentley, Product Marketing Manager. "These new sensors give us increased flexibility in matching performance and cost to the application, pushing forward our drive to be the one stop shop for anyone who needs to electronically measure tilt."
The variety and affordability make the sensors a great solution for applications in industrial automation, platform leveling, antenna and other position control applications, pitch and roll measurement and more.