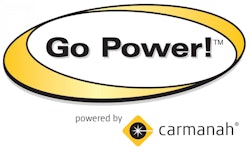 Go Power!, one of North America's leading innovators of solar-based mobile power solutions for RV, marine, work truck and over-the-road fleet vehicles, announced that it will be displaying groundbreaking new uses for its Solar Flex solar panels in two booths in the Green Zone at the NAFA 2015 Institute & Expo in Orlando, FL. New applications for the small, thin, flexible, ultra-high-efficiency Solar Flex panels include integration into fiberglass service bodies and designs that mount directly to boom and bucket arms.
An integrated service body application of the Solar Flex system can be seen at the SpaceKap booth 1417. SpaceKap designs and manufacturers fiberglass pickup truck caps and slip-in transferable service bodies. SpaceKap now offers the Solar Flex system as an option on its Diablo model, a large volume cap designed to be used as a self-contained mobile office or workshop on wheels.

"We were the first to introduce the slip-in service body, and as a company built on innovation, we are always looking for transformative new technologies," says Sean Brideau, Key Account Manager for SpaceKap. "Go Power!'s Solar Flex panels have allowed us to create a standalone cap that takes only 10 minutes to install, generates its own electricity and eliminates the wire harness connection[s] to the host vehicle's alternator that were previously necessary."

Before the Solar Flex solution, a truck body needing electrical service required additional labor and cabling, as well as a battery isolator to preserve the vehicle's starter battery. Vehicle-mounted workspaces often contain electronic devices that create a parasitic drain on starter and auxiliary batteries that can reduce their lifespan by as much as 50% each time the battery is depleted to 10V or below. The Go Power! solar power generating system keeps up to four auxiliary batteries optimally charged and equipment ready to deploy, even when a vehicle has been inactive for long periods.

Work trucks with boom and bucket equipment can also benefit from Solar Flex charging technology. The company's new 25-watt Solar Flex panel, on display in the Go Power! booth 1532, is small enough to mount on the lower section of a boom arm and can trickle charge dedicated batteries. Go Power! solar arrays can be configured to generate a battery-charging capacity of between 1.5 amps per hour to 100+ amps per hour.

At only 3 mm thick, Solar Flex panels are constructed using a rugged marine-grade laminate and can be affixed with fasteners through engineered eyelets or via adhesive to metal, rubber, fiberglass and plastic surfaces with parabolic bends as great as 30 degrees. The panels are so durable that they can be mounted on horizontal body surfaces.

"The Go Power! Solar Flex system significantly reduces nitrogen oxide (NOx) emissions and soot accumulation, thus extending the life of a vehicle's diesel particulate filter (DPF)," says Sean O'Connor, Sales Channel Manager for Go Power! North America. "In addition to making no-idle mobile power a reality for work truck fleets, our system virtually eliminates the cost to jump batteries, replace batteries and the manpower and downtime associated with both."

A comprehensive solar power generation system includes: Solar Flex panels, a solar controller that prevents battery overcharging, a complete wire harness system, an NRGLife absorbed glass mat (AGM) deep-cycle battery bank, a Go Power! pure sine or modified sine inverter and heavy-duty AC power outlets that can be strategically located throughout the truck body and in aerial equipment.

Go Power! solar technology has been serving the RV industry since 1996 and has proven itself through decades of field performance. Solar Flex panels were designed to flex to match the contours of a vehicle's roof and to enable the RV to operate autonomously for up to several weeks without a connection to Shorepower or other supplemental power resource. Go Power! has leveraged its experience to create tough, efficient Solar Flex panels and systems that provide AC power for computers, power tools, lighting, lift gates, a variety of truck-mounted equipment and much more.

Solar Flex panels come in convenient 25-, 50-, 100- and 200-watt power kits and can be paired with a wide range of Go Power! inverters for a complete system.