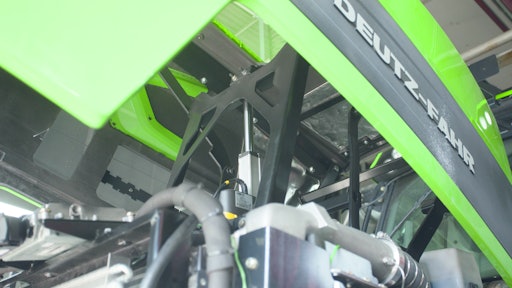 The new Deutz-Fahr 9 Series tractors offer several new features, particularly the use of a new electronic hood opening and closing mechanism. The hood of the tractor no longer opens and closes on gas springs, but instead with the help of an electric adjustable actuator of the Danish linear movement specialist Linak.
The engineers at DEUTZ-FAHR have deliberately decided against a simple tilt mechanism and gas springs, because this solution is impractical for the size of the tractor and carries many disadvantages. As an alternative, they have developed kinematics, which does not tilt the 150 kg hood, but raises and lowers it parallel to the vehicle. This makes easy and convenient maintenance of the rear portion of the engine room possible. "This system is unique in the market and it leads the way for increased usability. The farmer only has to press a button and he already has perfect access to the entire engine compartment,"  explains Product Manager Johannes Gruber.
Using gas springs, even the height of the tractor would complicate the classic operation. The maintenance is part of the everyday business for the farmer. Better comfort and usability leads to greater efficiency. However, the electric solution not only offers advantages in terms of user-friendliness and accessibility. Compared to gas springs, there is no loss of force with an electric actuator and the actuator is maintenance-free. In addition, the electric actuator closes the hood with a simple and reliable movement - no additional safety mechanisms are necessary.
The kinematics is driven by an adjustable actuator, the LINAK actuator LA36. This actuator is available in various versions. Up to one ton can be moved with the electric actuator, and the stroke length can vary between 100 and 999 mm. The kinematics is directly above the engine and the exhaust heat of the engine is exposed.
For this adjustment, the LA36 is the right choice. The actuator was developed specifically for use under tough and harsh conditions. It is the die-cast aluminum housing and high-quality components that guarantee a high protection class. Cold, heat, high temperature fluctuations or splashes do not affect the operation of the actuator. It also resists chemicals. In the static state the LA36 achieves protection class IP69K and in operation IP66. "LINAK has a great name, when it comes to manufacturing robust and durable actuators and offering high-quality products," says Gruber. A corrugated tube protects the electric cables. In case of power failure, the hood can be opened mechanically by means of an emergency operation.
The DEUTZ-FAHR pre-series machines are already showing their quality in the fields of test farmers; production started in October 2015. The sophisticated solution for opening the hood caused a stir and praise among farmers, who could already test the new tractor. Gruber sees a great development potential in the course of electrification in agricultural machinery. Firstly, the sheer size of the machines and the demands on comfort, user-friendliness and ergonomics would push up the demand for electric adjustment. However, electric actuators have clear advantages compared to hydraulic solutions. "The electrification with attachments and tractors will increase further in the coming years."