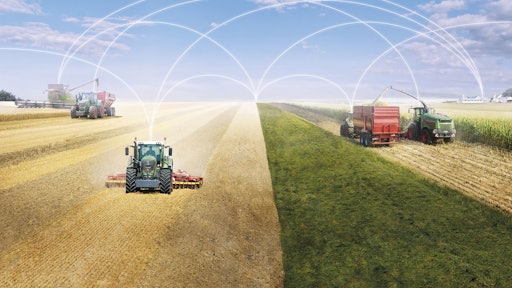 At this year's Agritechnica Sensor-Technik Wiedemann (STW) demonstrated the efficient collection, processing and presentation of data in agriculture using services which can transform the basic availability of information into "Farming 4.0."
STW technologies are used to gather information, processe it and forward it on, such as to the Cloud. Different sensors provide values for pressure, temperature, torque, humidity, inclination and position as well as speed. At the same time, operator interfaces such as displays and joysticks are providing external stimulus. Central control units, from the ESX family, form the brains of the operation. Here in the decentralized brains, data is collected, prepared and submitted as commands for actuators.
Communication with the surrounding environment is possible, as well. In this way, data can be exchanged with other machines, and integrated into the entire process chain. To do this, the TC3G Teleservice module can be used, which is able to record data over longer time periods, but which above all provides the connection to servers in the Cloud via mobile networks. In collaboration with partners such as Cumulocity, STW can prepare selected data for other process participants. In the same way, information can be passed from the network to a tractor: Where and when should something be unloaded? What is my next task? In this way the tractor provides its services for "Farming 4.0."