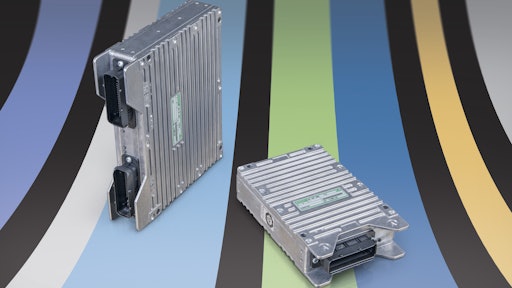 At Agritechnica 2015 in Hannover, Sensor-Technik Wiedemann (STW) presented at the Ethernet POWERLINK Standardization Group (ESPG) booth. With the porting of the real-time open-source protocol POWERLINK onto the central control units ESX-3XL and ESX-3XM, and with the data management and telemetry module CONNEX-TC3G, STW showed the first access to the world of industrial Ethernet at the trade fair.
POWERLINK is a real-time-capable and hardware-independent open-source protocol. It permits easy access and switching to industrial Ethernet in construction and agricultural machine technology. As a solution provider in these branches, STW pursues the aim of providing its customers with new technologies. Therefore, POWERLINK has been ported onto the central control units ESX-3XL and ESX-3XM, which are also designed for use in safety applications. Both control units are characterized by their modularity and their compatibility with convenient development environment CODESYS or the sophisticated toolchains for programming in C. For the porting of POWERLINK, the CONNEX-EB07 was used, an extension board especially designed for data management and communication, which can be used on both central control units. As both control units support several CAN interfaces, the communication from the sensor via decentral I/O modules to the control unit, and from there to the process level and IT infrastructure are possible.
The CONNEX-TC3G also supports the POWERLINK protocol. With this data management and telemetry module, the focus lies on the collection, evaluation and transfer of data. On the wireless side, 2G/3G mobile communications, WLAN and Bluetooth are supported, enabling connections to Cloud solutions and remote access applications. With POWERLINK, both CAN and industrial real-time Ethernet connections are now available.
For STW, the support of the POWERLINK protocol and the membership in the ESPG represent an initial step in the direction of the real-time Ethernet world. With POWERLINK, access to a world of existing systems which already exceeds 1.1 million devices is accessible for users of STW solutions.