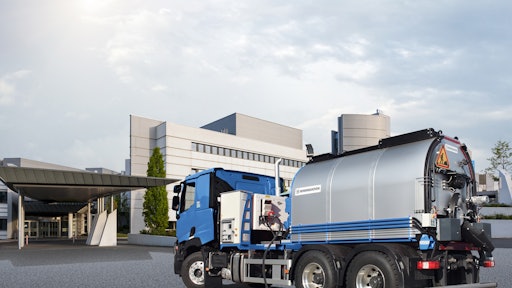 Constantly increasing requirements for the reduction of noise emissions, as well as health and safety regulations necessitate innovative solutions. While the general consensus is that mastic asphalt technology has remained unchanged for years, Benninghoven, part of the Wirtgen Group, came up with a new development that contradicts this idea.
The background
"All mastic asphalt mixers are the same," said a customer and complained that this was increasingly leading to problems. Residents near construction sites and inner-city asphalt mixing plants, as well as employees were complaining about noise which led to the involvement of local employers' mutual insurance associations. We all know the results. In the future, it will no longer be permitted to transport mastic asphalt with conventional mastic asphalt mixers inside towns and on nighttime construction sites. The challenge was to build a mastic asphalt mixer with a diesel unit that does not keep on "rattling."
In fact this requirement can only be met with an electric drive. Several innovative mastic asphalt companies have already attempted this, modifying a mastic asphalt mixer with a vertical agitator by adding a power generator and an electric motor to drive the chain.
Strategy
Recreating a mastic asphalt mixer with a vertical agitator, an electric chain drive and hydraulics with conventional technology was not the idea, however, so the following objectives were clearly defined: develop, design and manufacture a mastic asphalt mixer with horizontal agitator, direct electric drive, electric tilt function, electric fill cover, electrically heated discharge chute and oil burner technology without any hydraulics. The primary objective is to achieve a low acoustic pressure level, but there is also a focus on the environmental aspect. After initial puzzlement, some clever people used innovative thinking to turn the unthinkable into reality and the idea was put on paper in 3D. After the concept design and successful implementation of the drive, the control was also tackled.
The engineers worked with enormous enthusiasm. Designers, software developers, technicians and developers designed a sensational mastic asphalt mixer which is far ahead of its time.
Facts
The mastic asphalt mixer was finished after a development time of 6 months. Not only the design is right, but also all aspects with regard to the employers' mutual insurance association, such as fall protection, ergonomics and ecology, were in place.
The mastic asphalt mixer of type GKL SILENT was born.
Result
The GKL SILENT is the innovation in mastic asphalt technology. The omission of all hydraulic components and the use of an extremely quiet power generator, which supplies the drive with electricity to direct and continuously drive the agitator, create a working environment which permits all tasks in sensitive areas. With an acoustic pressure of 60 dB at 7 m, the noise emission is the same as from a TV at moderate volume. This allows working on nighttime inner-city construction sites, in the area of hospitals, residential areas or public spaces.
But the GKL Silent is not only quiet: Other optional accessories, such as a heated discharge door, central lubrication, an electric fill opening, etc. make this mastic asphalt mixer a benchmark and create added value for the operating company.
Another milestone is the newly developed control cabinet concept. Robust and fully computer-controlled, the GKL Silent is operated from a touchscreen. All data are shown in plain text, are saved and can be read out live from the Webfleet Portal and printed for subsequent archiving. This fully meets the future certification requirements for transport. The mixer is equipped with a pre-heating program for gentle operation which reduces the strain on the empty mixer during morning operation of the mixing plant.
The GKL Silent is available in the sizes 3.3-10 m³ and can be installed on suitable HGVs, trailer beds, articulated trailers, etc.