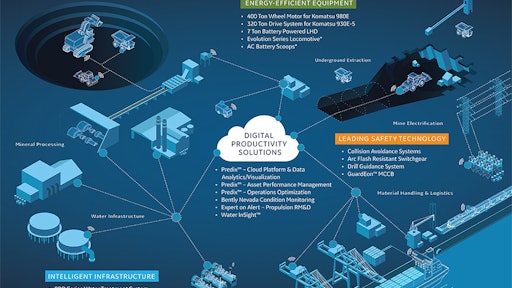 At MINExpo, GE Mining—a division of GE Transportation—unveiled the Digital Mine, a suite of technologies that can improve performance, reliability, safety and operations. Each mine is a mini-city, requiring power, water and transportation. Intelligent, real-time monitoring across the mine, allows operators to make data-driven decisions that improve equipment reliability and optimize mine operations – yielding up to a potential $5 billion annually in savings.
Powered by GE's Predix, the world's only open, cloud-based operating platform built exclusively for industry, the Digital Mine delivers interconnected technology needed to achieve breakthrough levels of efficiency and maximum performance. It combines machine sensors, connectivity, data capture, visualization and analytics to support management of an asset's lifecycle.
"Mining, as an industry, faces strong headwinds and must drive productivity and improve operational savings. Digital Mine, through advanced sensor technology and analytics, seizes the industry's untapped data to help make a difference," says Scott Phillips, Vice President and CEO of GE Mining. "As we're doing successfully for the rail industry, we're using our Industrial Internet mindset to actively monitor and diagnose equipment and operations to improve assets, maximize efforts, boost fuel efficiency and lower costs."
GE's suite of condition-monitoring capabilities collects information such as vibration data, temperature and pressure to inform mine operators of machine health, and also detects impending failures before they occur. Data collected from disparate systems enables the linking of insights across machines and processes, which can lead to better predictivity and decreased likelihood of accidents – all while increasing productivity.
GE Mining's digital solutions have the potential to help customers reduce equipment failures, deliver up to 5% improvement in mineral recovery, and increase optimization. For example, a leading gold mining customer maximized mineral recovery by 1.5%, which is equivalent to nearly $1 million a year. A platinum mine customer increased smelter throughput by 10% while improving recovery.
In addition to software, GE Mining provides customized solutions. Komatsu, a leading mining equipment maker, is using GE's 400 Ton Wheel Motor on its new 980E-4 mining haul truck. It is the industry's most powerful and efficient electric wheel motor and has created a new class in haul truck performance. Its drive system delivers the lowest operating cost per ton in the 400-T haul truck class market.
"Our efforts span the globe, and we will continue to develop world-class mining equipment that employs GE's advanced systems and technologies," says Rod Schrader, CEO of Komatsu America.
As the first services agreement between the companies, Komatsu and GE are teaming up to create services shops in Australia to provide the highest-quality repair capabilities on GE blowers, alternators and wheel motors.
GE Mining also held key sessions during the show to provide insights and capabilities of its products:
How Big Data is Driving Efficiency and Productivity on Mining Truck Haulage Systems - Speakers: William Halli, Executive Product Manager,

GE Mining

; and Doug Vroman, Product Service Manager,

GE Mining

How the Industrial Internet Will Drive an Increasingly Efficient Mining Operations - Speakers: Rahul Shaw, General Manager, Digital Mine and Mining Solutions,

GE Mining

; and Ken Scholey, Global Product Manager, Process Optimization,

GE Mining

A New Approach to Underground Mine Dewatering - Speaker: Terry Small, Global Product Manager,

GE Mining