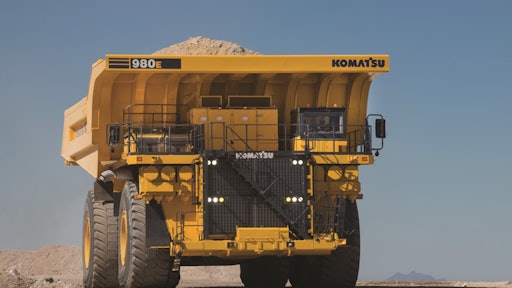 Komatsu America Corp., a leading global heavy equipment manufacturer, announces the North American commercial release of the 980E-4 haul truck, for service in mine sites requiring 400-T payload capacity.
With a 400-T capacity and 3,500 hp engine, the 980E-4 builds on a long history of success with electric drive trucks, and reinforces Komatsu's position as a global leader in the ultra-class mining truck market.
"For several years, many of our customers have been asking Komatsu for a 400-ton electric drive rear dump truck with the reliability of our flag ship model, the 930E. With the release of the 980E-4, we now have a product to meet this market demand," says Tom Stedman, Product Manager, Komatsu America Corp.
"Building on the foundation of the 960E, Komatsu was able to expedite the development of this new truck, while maintaining our strict standards of design, testing and product quality. We have every confidence this new model will reliably deliver high productivity, considering Komatsu's reputation for outstanding mechanical availability," Stedman says.
The 980E-4 provides an optimal match in large-scale mining applications with big bucket shovels (55-99 yd3) – such as Komatsu's PC8000 and the P&H 4100XPC–4800XPC, loading out in three to five passes, depending on bucket size and material density. This new truck features expanded dump body capabilities designed to optimize payload capacity and mining production.
Examples of 980-4 features designed to improve truck performance and lower cost per ton include:
A powerful, 18-cylinder, Komatsu SSDA18V170 diesel engine, comparable to other trucks in the class for speed on grade, while maintaining a high stall-torque capacity for those mines with soft underfoot conditions.
The engine comes standard with a pre-lube system, designed to help reduce wear during start-up, CENSE on-board monitoring system and the ELIMINATOR engine oil filtration system.
The AC electric drive system, manufactured by GE Transportation Systems, enables efficient operations in both deep pit and soft underfoot operations.
The Invertex II drive system incorporates the latest AC technology and advanced performance features.
The GDY108C traction motor was designed specifically for the 980E-4, with enhancements in both the mechanical and electrical portions of the motor.
The 980E-4 uses the proven GTA-39 traction alternator, with millions of operating hours in both of Komatsu's 930E-4SE and 960E-2 model trucks.
The air cooled, Insulated Gate Bipolar Transistor (IGBT) inverter system technology provides high performance and greater reliability than past inverter technology.
Examples of the 980E-4's improved vehicle control and handling include:
An AC system that features an alternator designed with a dual impeller in-line blower (12,000 cfm air capacity), for consistent electrical component cooling, and a high capacity retarding package for longer brake life and improved horsepower for downhill descents.
An electric dynamic retardation force of 6,000 hp, for continuous downhill hauling that allows the 980E-4 to maintain constant downhill speed or decelerate without frequent use of brakes. This permits travel at higher speeds – even down longer, steep slopes.
An advanced traction and slip/slide management system that precisely controls the torque applied to each wheel independently. It is also engineered to reduce non-productive wheel spin in low-traction conditions.
Similar logic is used during dynamic retarding for managing wheel lockup. These systems help provide exceptional vehicle control and handling, whether heading uphill or down.
Features designed to combat rugged conditions include:
A continuous horse collar and ladder-type frame that continues Komatsu's focus on engineering trucks with long-life and long-term reliability.
Fabricated steel modules that join with high-strength castings designed to manage the dynamic forces created by a machine weighing 1,378,500 lbs. and carrying 400 T of payload.
A new dump body, incorporating high-tensile strength and abrasion-resistant steel. It gives the 980E-4 a rugged-chassis construction able to withstand the rigors of off-highway hauling.
Custom body design offerings for a wide range of applications.
The 980E-4's comfortable cab features ergonomic updates that include:
An integral four-post ROPS/FOPS structure
Adjustable air suspension seat with lumbar support and arm rests
A buddy seat
Maximum R-value insulation
Tilt and telescoping steering wheel
Electric windshield wipers with washer
Tinted safety glass power windows
Komatsu PLM IV payload weighing system
A 55,000 btu/hr heater and defroster, 21,600 btu/hr air conditioning (HFC – 134A refrigerant).
A variety of options and standard features further enhance the convenience and cost savings ability of the 980E-4. These include:
KomTrax Plus – a complete service and support program that comes standard, this machine monitoring system uses a satellite-based communications system to offer a new vision for monitoring the 980E-4. By providing insight to critical operating metrics, the user monitors key performance indicators that drive increased availability, lower operating costs and maximize fuel efficiency.
PLM IV (payload monitoring system) – able to store up to 20,480 downloadable records of data, including payload, cycle times, load count and fault codes, this system serves as a critical tool to monitor truck production and prevent overload conditions that place unwarranted stress on components. The PLM IV uses a simple web interface for download and connects to other chassis systems utilizing Ethernet, CANbus and USB technology.
Convenience Center – the front bumper adjacent to the machine's main entry contains several service and convenience items designed for easy access to both operator and maintenance technician. Items include an auto-lubrication tank, ground level engine shut-down and a fluid service center. A ground-level isolation station utilizes lock out/tag out functional switches to isolate machine power, restrict starter engagement or disable propulsion.
(Optional) Komatsu Smart Rims – available for the first time on a production truck, Komatsu Smart Rims allows the easy removal and installation of the tires without removing the rims, saving time and reducing the impact of tire changes on downtime.
Visit the Komatsu booth in Las Vegas at MinExpo 2016, September 26–28, booth number 7021 in the central exhibit hall.