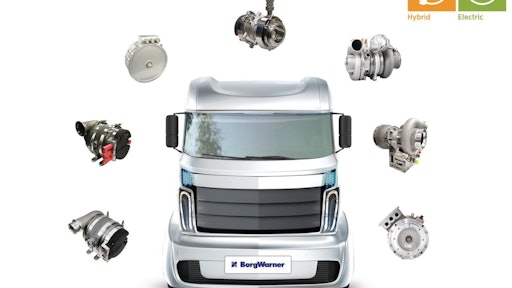 BorgWarner, a global leader in clean and efficient technology solutions for combustion, hybrid and electric vehicles, offers the growing hybrid and electric commercial vehicle market a broad product portfolio to help meet emissions regulations and fuel economy goals. The hybrid and electric commercial vehicle market is expected to experience a 32.9% compound annual growth rate (CAGR), increasing from 49,000 units in 2017 to 115,000 units in 2020.*
"The growth drivers in commercial vehicle propulsion systems are changing. While environmental impact and fuel economy continue to be key concerns, truck and transit fleets are now confronted with new challenges from a growing list of urban areas where combustion engines are restricted due to zero-emissions zones and noise-sensitive areas," says Christopher P. Thomas, Chief Technology Officer, BorgWarner. "BorgWarner's latest technologies will help bring new, cleaner hybrid and electric options to larger fleet vehicles."
Featuring patented High Voltage Hairpin (HVH) stator winding technology, BorgWarner's versatile HVH410 and HVH 250 electric motors provide industry-leading power and torque densities with a power output of up to 300 kW (402 hp) and peak efficiencies of over 95%. HVH410 electric motors deliver a maximum torque of 2,000 Nm for Class 7 and 8 hybrid and electric applications, while HVH250 electric motors deliver a maximum torque of 425 Nm.
In addition, BorgWarner's 48V high efficiency motor/generators provide higher system efficiency and improved energy recovery capability to meet increasing power demands.
BorgWarner's eBooster electrically driven compressor has already been applied within the market and is useful for smaller commercial engines with less than 5 L of displacement. A larger unit is also in development for engines with up to 13 L of displacement.
BorgWarner's eTurbo technology takes electrified boosting one step further with the ability to generate power to recharge vehicle batteries. The eTurbo is being developed in two sizes to serve both small and large commercial vehicle engines.
Further examples of electrified turbomachinery are also in development both internally and with customers, including an ORC (Organic Rankine Cycle) expander with electrical output, an eTurbocompounding turbine generator and a gas turbine range extender for use on commercial electric vehicles.
BorgWarner will showcase its broad range of combustion, hybrid and electric technologies at the upcoming North American Commercial Vehicle (NACV) Show in Atlanta, GA.